How an entrepreneur built a business with a unique product
4-minute read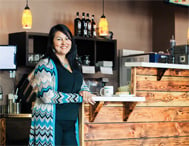 For three years, Sharon Bond had spent her evenings, weekends and summer vacations selling bannock—a traditional bread—from a roadside stand in West Kelowna, B.C. Bond was digging herself out of debt so she could get the bank loan she needed to start her own restaurant.
When she was finally approved for a loan by the All Nations Trust Company, an Indigenous-owned financial institution, she could begin renovating a rented space to open her restaurant.
Even though Bond had always dreamed of being her own boss, she was still plagued by self-doubt as the big day approached.
"Am I doing this right? Is this going to work? Does anyone even know what Indigenous food is?" Bond remembers asking herself. "I tried to find someone like me so I could look and see what they were doing. But I couldn't find anyone."
Her fears seemed to be coming true when a badly installed gas meter meant the restaurant was without cooking fuel for two weeks. Bond and her staff were forced to cook on an electric skillet when they opened their doors in the summer of 2009.
"We were trying to keep up making bannock and our menu while they were working on the gas coming into the store," Bond says. "It was just like, 'Wow, this is crazy.'"
The joy of bannock
Bond can now look back and laugh at the early bumps. She's expanded her Kekuli Cafe to a second location. And she's even taking steps to franchise Kekuli with its original take on bannock and fun slogan, "Don't panic… We have bannock!"
Also known as fry bread, bannock is a staple of Indigenous cuisine in many parts of the country. It's made with a simple flour-based recipe and can be pan fried, deep fried or baked. Bond puts her own twists on bannock with such toppings as maple glaze and Saskatoon berry cream.
"We created a bannock that is soft and fluffy and can be had with a coffee or latte."
Building the right team
Bond says an early challenge was learning how to manage her staff. She says she and her husband, Darren Hogg, were doing an inordinate amount of work.
"At that time, we didn't really have much experience in HR," Bond says. "It took us six months to realize why we were doing all the work."
She eventually made manuals explaining every aspect of running the business, including training for every position, policy procedures, dress codes and detailed instructions on how to use the equipment.
Active involvement in the community
In 2014, Bond moved from Kelowna to her hometown of Merritt, B.C., 125 kilometres to the west, to open her second Kekuli Cafe with the help of a loan from BDC's Indigenous Banking Unit.
Once back in Merritt, she became involved in the community, something she says is helping raise her business's profile. She has served as a band coun-cillor with the Nooaitch First Nation since 2015, and she sits on the board of the Merritt and District Chamber of Commerce.
She's also on the board of Indigenous Tourism BC, where she represents the Thompson Okanagan region.
Be ready to work
Bond has simple advice for aspiring business owners: "Be ready to work. It's 24/7 until you can trust enough to let your staff take care of it."
"We've got great people working for us, so we can let go and focus on other things. But we're always ready to jump in at a moment's notice to problem solve and troubleshoot."
Along the way, Bond has also come to understand that the relationship between her staff and customers has been a key part of her success. "People love coming back for our staff because they are good and friendly. People love it when they have that connection."
To maintain that special touch when she franchises her business, she has worked with a BDC sales and marketing consultant to clarify her company's core values and create mission and vision statements. The focus is on her commitment to put customers first.
"We want to be a place that people will remember. So we try to make every person who works here empowered enough that they can bring them back."
It's time to be proud
As a First Nations business owner, she says she has a responsibility to fight stereotypes and serve as the example she was looking for when she got started in business.
"If you're Indigenous, the entrepreneur is there inside you. You can start up your own business, whether it be a retail store, a restaurant or anything.
"Being Indigenous doesn't stop you from doing anything. We are creating jobs for people. We are taking care of ourselves. So it's time to be proud of First Nations in Canada. It's amazing. It's good."
Lessons learned
1. Establish procedures and systems.
Standardizing how you work will help you train new employees and ensure you can scale up your business.
Designating team leaders and managers will allow you to take a step back and focus on the big picture.
3. Empower your employees.
Your employees are your connection with customers, so give them the tools they need to create a special experience.
4. Be active in your community.
Giving back to your local community will raise your profile and make people care about your business.
5. Be ready for hard work.
No matter how great your team, you always have to be ready to jump in at a moment's notice.