Never satisfied: Why this serial entrepreneur decided to start all over again
Thriving on challenges, Georges Karam left everything behind to grow a technology firm.
4-minute read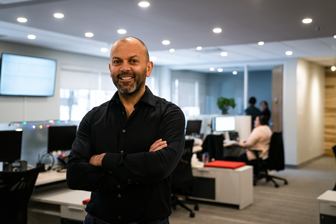 In the summer of 2018, Georges Karam finally resolved to take a six-month break. He had been working hard since arriving in Canada in the early 1990s
He had, notably, founded two companies, AHEEVA and Atelka, with his business partner François Lambert. He had executed strategic pivots, sold his businesses, employed up to 3,000 people and generated hundreds of millions of dollars. And, like any good entrepreneur, he also often said "yes" without thinking too much about it.
"I remember our first contract, managing a call centre and 15 employees. We had nothing, not the slightest resource, but without thinking about it, I said 'yes.' François [Lambert] called me crazy, but we pulled it off," he recalls.
After selling his businesses, Karam worked for a large Montreal company specializing in computer security and helped it grow internationally. But his entrepreneurial drive quickly caught up with him.
"I needed other challenges. And in any case, I'm still unsatisfied. That's what constantly pushes me to go further. Entrepreneurs won't admit it, but we're a very anxious breed. You always have to do better."
He already knew that after these few months of regained freedom, he would probably go ahead and acquire a company. He had spoken with his broker and had floated the idea that he wanted to know of any opportunity to buy a great company.
A golden opportunity
A few weeks later, well before the end of his planned break, the phone rang: A golden opportunity had presented itself. Cognibox, a Shawinigan-based company that specializes in risk and compliance management for subcontractors, was brought to his attention.
"I didn't want to start another business or invest passively. I wanted to buy a company in my field, new technologies with potential, and get involved," he explains.
He finalized the purchase after a few months of negotiations. "When I like something, I know it right away," he says. Karam also needed this new challenge. "I like management, growth challenges, human challenges. It's in my DNA."
With the support of BDC Capital as a minority investor, he took the helm of the company in May 2019. "When I decided to go with Cognibox and find financial partners, I wanted partners who are more patient. I'm thinking about the long run."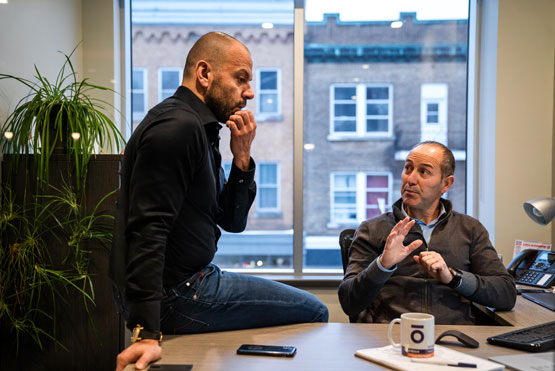 Changing culture to reach new heights
On top of distance being a daily challenge (Shawinigan is located some 150 kilometres from his Montreal-area residence), Karam also wants to evolve the company culture to successfully bring about his desire for international expansion.
"My challenge is a very human one now. We want to make a major cultural change."
Of note is the need to strengthen business processes for the company, which has grown organically over the past 20 years. Karam also wants his employees to think big, just like he does.
"It'll take five, seven, ten years—no matter. I want it to be a success. We have good products, good customers. We can compete and be recognized at the highest levels."
3 tips from George Karam to become a better entrepreneur
1. Build the right team
It's not just about having a good team. According to Karam, it's even more important to have a team that meets the company's current challenges.
"The success of an entrepreneur comes from his team," says Karam. "If you don't have the right team in place, you won't get very far. That's what I'm doing with Cognibox."
2. Take the time to listen
Entrepreneurs are convinced of their work. They believe in their own ideas and can sometimes ignore advice from others, which can hurt them," says Karam.
"Take the time to listen to your peers, the successful ones. This is important: Learn from others' mistakes instead of having to learn from your own. There's no point in being stubborn and dying with an idea," he says.
3. Know when to step down
Entrepreneurs are first and foremost visionaries, but they are not all good managers. This is why it's important to know your strengths and weaknesses, to surround yourself with good people and, at times, to know when it's time to pass on responsibilities.
"At a certain point, entrepreneurs need to know how to step down and make room for others, to distance themselves from operations and find the right person to carry on the business," suggests the businessman.