Buying a business with strong growth potential: A promising strategy for the right team
These business partners specialize in the acquisition and revitalization of manufacturing companies
5-minute read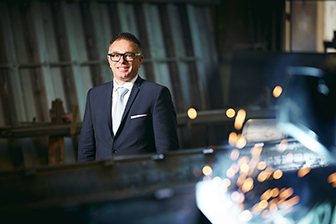 Frédéric Albert and his partner Frédéric Chabanne not going to rest on their laurels. Having successfully completed a first acquisition of a struggling company, the partners quickly started searching again for a new business acquisition target.
"We needed a new challenge," said Frédéric Albert, who has known his partner since elementary school.
Admittedly, this team of entrepreneurs has a knack for spotting good business opportunities. Their investment company, Fredac Corporation, specializes in acquiring companies to promote their growth through the injection of capital and the implementation of effective management methods.
This is what they did, notably, with Fibrobec, which they acquired in 2010. At that time, the company, which specializes in manufacturing fibreglass pickup truck covers, was in financial trouble. A few years later, thanks to the optimization of business processes and improved productivity, it posted record sales growth, which enabled it to become profitable again.
Following Fibrobec's recovery, the partners were looking for a new acquisition target to repeat this success.
Precise targeting
It's at this time that Laurin Containers appeared on their radar. This Laval, Quebec, business specialized in the manufacturing of steel containers had seen sales stagnate in recent years. However, the two partners quickly realized the strong development potential it offered.
In addition, the company met all their search criteria. Admittedly, their list was not very long. "We target manufacturing companies that own their own brands and whose products are in demand and have a unique competitive advantage. We can always improve everything else, such as the manufacturing process, management methods and marketing strategies," explains Mr. Albert.
The analysis was positive and the duo initiated discussions with the owner, Michel Laurin. Mr. Laurin had taken over the family business in 2009, following the sudden death of his father. After nine years at the helm, he wanted to find a buyer capable of growing and ensuring the continuity of the business, which has roughly fifty employees.
The transaction was completed in February 2019, with the assistance of mezzanine financing from BDC Capital. To ensure a smooth transition, Michel Laurin has agreed to continue working for the company for one year as Executive Vice-President.
Starting with a reinvestment
Frédéric Albert and his team quickly took action. They completely restructured the 30,000-square-foot (2,787-square-metre) plant and put together a $1 million investment plan to automate certain operations, measures that very quickly generated productivity gains.
They also adjusted the product catalogue to focus on products with the best sales potential, which improved inventory management. And they implemented an ERP system for better data control.
It was also important for them to strengthen their business relationships with the main customers and suppliers. "We have to reassure them and explain our vision," explained Frédéric Albert. "This also allowed us to better understand the needs of a very diverse clientele."
"We took the opportunity to change the brand image and implement a marketing initiative that will last a year. Our products are already known for their superior quality. Our competitive edge is to have the best execution so we can deliver our containers when our customers want them."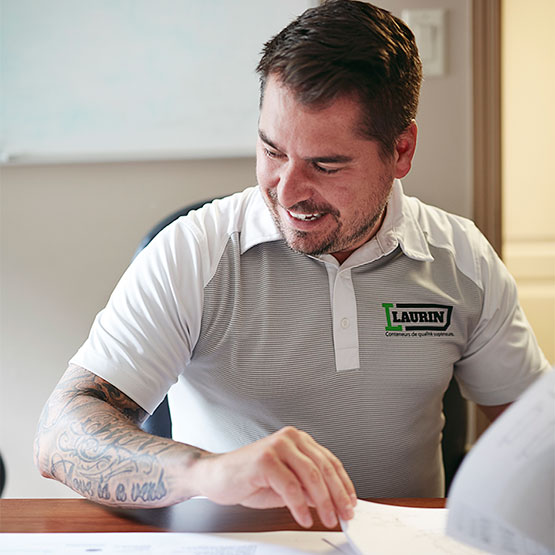 Necessary adjustments
Frédéric Albert acknowledges that some decisions are harder to make than others. In particular, there have been some staff changes, and some clauses of the collective agreement will have to be renegotiated. "Any restructuring requires adjustments," he said. You must never lose sight of the objective of taking the company to the next level. It is important for us to be transparent. This is essential to establish a real atmosphere of team work."
The results speak for themselves. In less than six months, Laurin increased its production volume by 25%, which increased the profit margin, thus paving the way for future investments.
However, much remains to be done for the company to make a real leap forward. In times of restructuring, patience is key.
Frédéric Albert estimates that it will take about two years to achieve the growth target he and his partner have set for themselves. Meanwhile, the new owners remain on the lookout for attractive investment opportunities and have steel manufacturers on their radar "to increase our production capacity." A story to be followed.
Frédéric Albert's 3 tips for a successful acquisition

1. Be patient
"Finding the right target is never easy. Time is your best ally. Always remember that the best transaction is the one you don't make!"
2. Don't be too greedy
"Don't buy too big. You must have the flexibility to weather storms. Because there will be storms!"
3. Choose the right partner
"It's not just about targeting the right company—you must also find the right seller. You have to get along with one another. You will transform the company with the objective of propelling it, and the seller will have to let go and be able to handle the shock that this can create."