Hornby Organic automated production to keep up with explosive sales growth
Automation allowed business to grow sales
12-fold
in six years, save space in its tight facility and maintain margins amid rising costs
9-minute read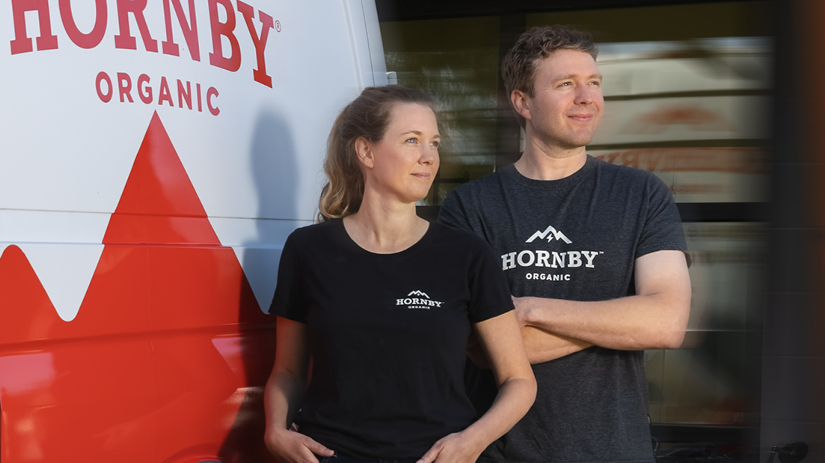 Cayleigh Rees (front) and Irah Vet (back), co-founders, Hornby Organic
Some businesses pursue automation to cut costs. Others to boost efficiency. Hornby Organic did it because it had no choice. The business had to automate or run out of space to grow.
The Vancouver Island maker of organic energy bars and other snacks was enjoying explosive 50% annual sales growth, but it was operating out of a tight 370-square-metre space and couldn't find anything bigger due to limited space availability in the region.
With an expanded facility off the table, Hornby co-founders Cayleigh Rees and Irah Vet had only one other option: to invest heavily in automation and digital technology.
"It's very tricky to find industrial space," Rees says. "We had to keep automating to accommodate the growth in the space we're in."
12-fold

sales growth with same workforce

The company's relentless focus on automation has paid off handsomely. Sales have shot up an astonishing 12-fold since 2017, the year Hornby embarked on its first automation project. The company managed this impressive growth without needing to add to its production team of six employees.

When inflation started to climb in recent years, Hornby was well positioned to navigate the challenges. Rising costs have impacted many Canadian businesses, A 2023 BDC study found that 66% of entrepreneurs reported a higher-than-expected rise in business costs, while 65% said the rise in costs had negatively impacted their company. Entrepreneurs who have relied heavily on automation and digital adoption were 4.4% more likely to report high growth in the last year, despite the inflationary context.
In Hornby's case, the biggest impact from inflation has been significantly increased costs for freight and product ingredients. The company's high margins allowed it to absorb some of those cost increases, while new automation investments have brought down expenses in other areas.
Automation helped retain valued employees, pay
above-average

wages

Automation has also allowed the business to largely sidestep the impact of rising Canadian labour costs because it let Hornby increase the productivity of its existing team, even as sales expand exponentially.

And the company doesn't have to worry as much about losing valued employees to higher-paying jobs elsewhere because its high margins allow it to generously remunerate workers.

"Our approach has always been to have a smaller team and pay them above-average wages and enjoy the benefit of more long-term staff," Vet says. "Because of this, we haven't felt the labour cost pressure as much."

Vet emphasizes, however, that the business doesn't use automation to reduce its workforce. Instead, automation has allowed Hornby to increase engagement by giving workers more interesting jobs and reducing repetitive tasks.

"Automation helps us grow our revenues rather than decrease our labour force," he says. "We've never automated and then said, 'Okay, well, that position is gone.'"

The business focuses a lot on communicating with staff about new automation projects to reassure them their jobs aren't at risk and get their input on changes and implementation.
New machines lead to
jaw-drop

moments

"It's been a huge empowerment to the staff," he says. "We communicate a lot with them. Instead of being concerned about any positions being at risk, when something new comes in there are usually jaw drops because it's pretty cool to watch how it works. The employees then know they can just supervise that piece of equipment and not do the grunt work."

The company's foray into automation started with investments in a machine to form energy bars and another one to package them. The business then had to find a way to coordinate the production rhythm of the two machines. Vet came up with the idea of adding a third machine—a controller—to manage the first two machines.

The complex of machines ended up working so well together that the duo was hooked on automation to solve problems and improve efficient use of its space. Vet went on to build a packaging robot that puts energy bars in cartons.

"The idea of automation seemed overwhelming at first," Rees says. "But all of a sudden, we realized, wow, this is so powerful. We don't have to do this ourselves. We can have machines do it. And then it kind of snowballed. We realized, hey, we can do this."
ERP system was a
game-changer
A big game-changer came when the company bought an enterprise resource planning (ERP) system, software that allows a business to manage all of its functions and see key real-time data in a centralized platform.
Again, the complexity of such a system seemed daunting at first. "When we were starting out, we knew ERP systems could be very costly to implement," Rees says. "It was another added expense we were on the fence about adding."
But Vet and Rees decided to plunge ahead just the same with a new-to-market cloud-based ERP system and were quickly surprised by the impact on their business. "It was a huge benefit for us immediately," Rees says.
Real-time

data improved decision making

The system allowed Hornby to track costs, inventory, sales and finances in real time to have a much clearer picture of the business and make better-informed decisions. It also reduced employee time needed to input data from one system into another.

"As we grew, we were finding it troublesome that our accounting was up to date, but our inventory didn't reflect that since we were only doing monthly inventories and not adjusting daily for what was shipped out," Rees says.

"As a result, our profit and loss data was not really accurate. Having that real-time data and knowing it's accurate have been huge for our decision making and cash flow. We feel better informed. If there are cost increases, it's reassuring to know if we're maintaining our margin—or if we're losing a bit of margin, we can see where and how."
Collaborative robot saved on space and costs
Hornby has continued to find new ways to automate. Its latest new machines automate the processes of putting energy bars in cartons and packing pallets for shipment. "This saved a lot of space in our warehouse and we got a huge cost savings," Rees says.
The palleting machine is particularly exciting for the Hornby team because it's the company's first collaborative robot. This is a newer kind of industrial robot designed to work safely in collaboration with workers, with the help of safety sensors and reduced speeds of operation.
"I see them as a big future for all kinds of production and manufacturing because they're very easy to program and integrate and they work very well," Rees says.
Company to build its own larger space
Future plans include adding a couple of staff positions to handle increased sales. And after five years of fruitless searches for a larger space to move into, Hornby finally found a way to expand. It plans to move to a larger, tailor-made facility it is getting ready to build itself in two years on land it acquired with the help of BDC financing.
The move will expand the company's footprint fourfold to 1,500 square metres, enough to accommodate continued 50% annual sales growth for many more years. They are also looking to add solar panels to the new building, as well as going fully electric to reduce their reliance on gas for production.
"We really should be operating out of 700 square metres right now or more," Vet says. "We want to build a building big enough so we don't have to move out of it right away given the kind of growth we've been seeing."
The duo advises other entrepreneurs considering automation to educate themselves on their options and start small. "There's a huge benefit and it doesn't have to be that costly," Rees says. "If you can figure out some small improvements, it just compounds from there."