Sweet success: Single mom recovering from accident creates
award-winning

bakery

Lisa Allain overcame challenge after challenge to build a successful business

5-minute read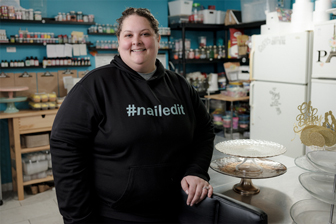 Lisa Allain was a young mom who had just started working as a nurse when a horrific car accident changed her life. She suffered extensive brain and other injuries that left her bedridden for a year. She had to relearn how to walk and hold things. As if that wasn't enough, she also learned she had a brain tumour.
Allain's marriage fell apart, and she lost her nursing license. Unable to work, she had to resort to food banks to feed her three kids as a single mom.
Then, her luck started to turn around on her youngest child's first birthday. "I made some cookies and everybody raved about them and wanted to buy some," she says. "I thought, 'Hmm! Maybe I could make some money so I can feed my kids.'"
Edible art: Affordable price
Out of that inspiration emerged a remarkable story of entrepreneurship and perseverance. Allain had never baked before, but she was artistic and loved decorating. In 2016, she started baking cakes for birthday parties out of her home in Welland, Ont., then moved to a bigger house with a second kitchen that she turned into a commercial bakery. She called her business Talent 2 Design, with the motto "Edible pieces of art—affordable prices."
Business quickly took off. Allain often did her baking at night after the kids had gone to sleep. Her secret was to keep recipes simple, beautiful and affordable. "There are lots of single moms and hard-working parents who want to have nice things for their kids," she says. "But some pastry chefs want to put a price tag on these items that's three times what I charge.
"There's a way to make the cost of the products cheaper and more affordable. My market is hard-working people just like me."
Turned setback into opportunity
To buy equipment and a vehicle for the business, Allain got a loan from Rise Asset Development, a nonprofit that provides financing and coaching to entrepreneurs with mental health and addiction challenges. BDC partners with Rise to finance loans, fund its mentorship program, provide staff as volunteer coaches and contribute to its capital fund.
But misfortune struck again when a backed-up municipal sewage line left her commercial kitchen flooded with 40 cm of water. Allain had to move her family to a hotel for two months and couldn't run her business. "That was my breaking point," Allain says. "Everything I created, everything I invested, my business loan—now what do I do?"
Allain decided to turn the setback into an opportunity. She decided to move her business into a stand-alone bakery shop in a storefront in downtown Welland. The grand opening was in 2018. Even the mayor attended.
"I became an entrepreneur out of necessity. I didn't realize until I opened the store that I was an entrepreneur," Allain says.
Won numerous awards
The business grew even more quickly after that. Allain now has five employees and two co-op students. Talent 2 Design has won numerous accolades, including being named the town's best cake business three years in a row. She also won Rise's entrepreneurial achievement award.
But shortly after opening her store, Allain had another setback. She learned she had to have brain surgery because of complications from her tumour. It was almost more than she could take.
"There were lots of times when I just came in and broke down," she says. "I felt so crummy. I could barely walk. It was my staff who said, 'It's worth it.' I'm glad I had them and this place to keep me distracted."
"I was at my darkest days"
Her kids also helped her keep pushing on. "Sometimes I was at my darkest days," she says. "And then my kids came and said, 'I love you, mommy,' or gave me a hug. It showed me there's a reason I'm here."
She has also leaned heavily on advice from her mentors at Rise. They helped her prepare a business plan, learn entrepreneurial skills and hire employees to fill gaps in her knowledge. "The biggest thing I learned was to figure out your weakness and to hire the people who are your weakness," she says.
Grateful for her support in the community, Allain does a lot to give back. She donates baked goods every month to the church that runs the food bank. She also gives to schools, local events and charities.
Big expansion plans
Allain also hires people with disabilities and offers them workplace accommodations, such as adjusted workspaces or hours. "I was given a second chance, and I believe I'm here to allow other people to have a second chance, to provide for their kids. I have disabilities, and I don't want to look at anybody differently," she says.
Allain has big plans to keep expanding her business, including opening a second location and selling her products in retail stores.
She still can't believe her success. "When I'm doing payroll, it's still surreal that I created this," she says. "Being an entrepreneur is not easy. Obstacles are going to come, but you just have to keep going. It's worth it."