Bringing the army work ethic to entrepreneurship
With his company off to a flying start, veteran Martin Contant's biggest challenge has been to slow down growth to ensure he upholds his commitments
5-minute read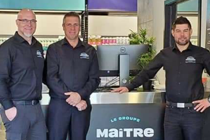 Evasion Piscines et Spas, Martin Contant's new store, had been open only two weeks when the pandemic forced it, along with nearly every other business in the country, to close down in March 2020.
"I had been without a salary since November when I left my job as a manager in another pool store to start my own business, and I needed to start making sales," recalls Contant, co-owner of Evasion Piscines et Spas in Gatineau, Quebec.
Fortunately, Contant was well equipped to overcome this challenge. "My experience in the army taught me how to deal with adversity, put things into perspective, manage stress and find solutions."
Joining the Armed Forces
at 18
As a child, Contant dreamed of serving in the United Nations Peacekeeping Troops—the Blue Helmets. At the age of 18, he joined the Canadian Armed Forces and was able to make his dream come true by serving in the International Force in East Timor in 1999 and 2000. He became a combat diver for the 5 Combat Engineer Regiment, but a diving accident put an end to his army career at age 24.
"My dream was shattered," he remembers. "I saw myself spending my life in the Armed Forces because I performed extremely well in that environment."
By sheer chance, he bounced back by finding a job at a pool and spa business. Once there, the work ethic he had learned with the army made him stand out. "I learned to develop a work methodology and obtain results as efficiently as possible. Transferring these skills to the swimming pool and spa industry allowed me to move up the ladder very quickly."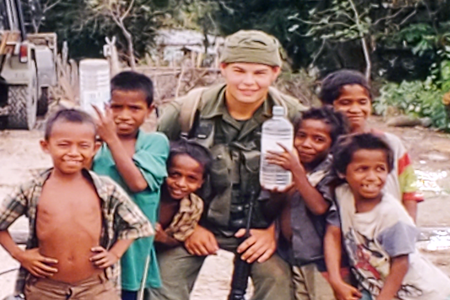 Structuring the company
After 20 years as an employee, the veteran was ready to start his own business with his long-time co-worker, Patrick Vézina. "We complement each other," says Contant.
Together, they carried out their business plan and chose to set up shop in the Hull–Aylmer Plateau in Gatineau, an area where there were no pool stores.
The two partners also went out and recruited an installer who they were already working with as a sub-contractor, Jocelyn Beaumier, as a third co-owner of the business. "Jocelyn already had experience with installation and the machinery necessary to realize our business project," explains Contant. "It was very important to us when we were thinking about the company's structure to be as independent as possible from sub-contracted labour."
"Having him on the team makes us less vulnerable, and the clients really like having a co-owner working in their yard."
They also wanted to benefit from good advice, so surrounded themselves with a circle of professionals, from lawyers and accountants to bankers. Following their advice, they presented their project to BDC, where they obtained financing. "Everyone believed in our project," Contant says.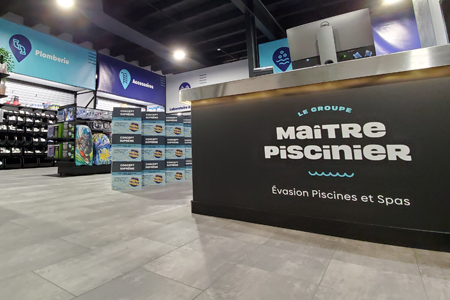 Controlling growth
Although the company's start-up was hampered by an abrupt closure at the beginning of the COVID 19 pandemic, the business partners always remained proactive. "We took a night off when everything closed, and the next day we were in solution mode," Contant says.
They eventually turned their truck into a mobile laboratory to offer water analysis services and sell the products needed to maintain spas. "It wasn't really profitable considering the gas and time it took to get to each customer, but we figured at least our company vehicle was being seen on the streets," explains the entrepreneur.
When the store reopened a month later, it was madness! People realized they would be staying home for the summer holidays and the demand for pools exploded. However, the budding business faced several challenges, starting with training its workforce. "Our young workers were learning by watching us serve the customers," Contant says.
Driven by adrenaline, the partners put in workdays of around 15 hours in the initial months after reopening. "Our challenge was to slow down growth, because if we sold a product, we had to be able to uphold our commitments," reports the entrepreneur. "We couldn't exceed our installation or storage capacity."
The work ethic learned from the Canadian Armed Forces has paid off: the company reached its year-five forecast in less than a year and a half.
Building on this success, Contant is now looking for expansion projects that will allow him to continue improving customer service.
"When you come out of the army, it's a difficult transition," says Contant. "But the skills you learn are very valuable and can be used to build a new and interesting career. Nothing's impossible."
Are you a veteran or transitioning military member who would like to start a business?
Through its Operation Entrepreneur program, Prince's Trust Canada can help you start or grow your business through its business start-up coaching services. You can also find a veteran-owned business or list your business by visiting BuyVeteranCA. Veterans can also get advice by visiting the toolkit and resources section, available any time.