Mother, business owner, bodybuilder: How this entrepreneur maintains
work-life

balance

Art studio owner is building a thriving business by focusing on quality

6-minute read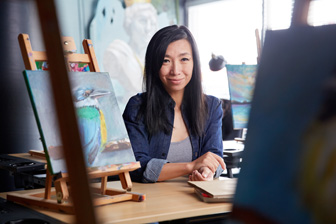 Simultaneously operating multiple businesses, raising two young children and competing as a high-level amateur bodybuilder has taught Lily Yuan about the importance of solid time-management skills.
"Every day, every hour, is packed," says Yuan, who's based in the Vancouver suburb of Richmond, B.C. "I get up really early, by 5 in the morning, and plan my day. When I'm training as an athlete, you get a one-minute break between each strength set. That's when I do my emails. I do my thinking when I'm on cardio. I'm always doing more than one thing in one hour."
But beyond her ability to multitask and a high level of organization, Yuan's true secret to business success is her constant pursuit of excellence.
Putting art at the centre of business
Originally from Beijing, Yuan studied at Tsinghua University. She started her career in sales and marketing, going on to manage a department for a multinational company. Meanwhile, she was helping her husband, Jackie, with the pair's lumber business, called Xinyu Holding Ltd.
After moving to Canada in 2008, the two became parents: Isabella was born in 2010 and Jane two years later.
During her daughters' early years, Yuan kept busy as a full-time mom. She was also helping oversee the lumber company, doing everything from accounting to administration. When her two daughters enrolled in daycare, she found herself dreaming of endless possibilities.
"I finally got some free time for myself and started to think," Yuan says. "I grew up learning art and love it; I received lots of professional training. I also love sales and marketing, and with my background I started to think of how I could combine all of these skills together to start my own thing.
A calculated risk
Skilled with a paintbrush, Yuan figured that if she could teach her own kids how to paint, she could teach anyone.
She began offering children's art classes out of her dining room. Word spread. Within two months, she had rented a studio and the Lily Yuan Art Studio and Gallery was born. Classes were packed, with demand for more. In addition to nurturing creativity in young ones, the artistic entrepreneur had other ideas, including teaching adults and offering fun but high-quality paint nights.
She needed an even bigger space. Yuan happened upon an ideal, central location, a beautiful studio with high ceilings and an abundance of natural light.
Yuan and her husband took a calculated risk. After crunching numbers and drawing up business plans, the couple purchased an industrial property for the lumber business, then six months later, bought the commercial space for the art studio. They turned to BDC both times for financing.
Quality always has a market
Yuan's art venture is booming. She uses modern technology to help teach classic skills, projecting brush strokes and other steps on two large Apple TVs and doing drawings on an iPad Pro. She brings in acclaimed artists from throughout North America to give workshops and showcases her students' pieces in competitions and shows, giving them exposure and access to new opportunities. She also uses high-quality paints and materials; adult paint nights include fine wine and food.
"Quality always has a market," she says. "We don't like cheap stuff. We want to provide the best service. Maybe your profit might be a smaller percentage than other businesses, but overall there will be lots of growth: your sales will grow and your profit will grow as a result. That's been my concept and it has really worked."
Yuan's love of the arts doesn't end there. Both she and her husband are fans of musicals. Their enthusiasm for the genre led them to start producing their own shows, cofounding the Children's Theatre of Richmond Association.
"We give teen performers the opportunity to showcase their talent, and we hire young, talented artists as directors, choreographers, set and light and costume designers," she says. "We wanted to give youth real hands-on experience before they think about pursuing a dream as a professional."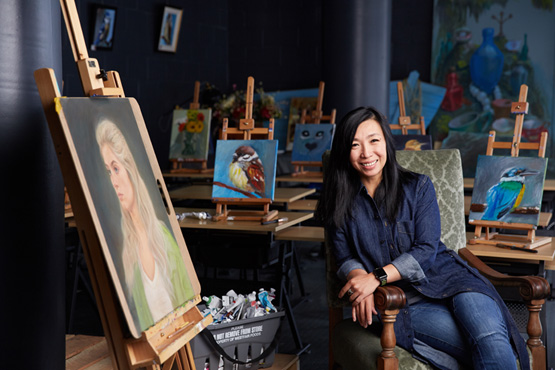 Remain focused on your goals
In between juggling her business and family, Yuan has also taken up competitive amateur bodybuilding, going on to compete province-wide against women 15 years her junior—even winning medals. To prepare for competitions, she trains for 90 minutes a day and sticks to a strict diet. "I'm the type to always want to get a result, to see how far I can go," she says. "You have to be mentally strong."
That strict self-discipline has clearly contributed to her entrepreneurial success. So did her experience working for a large, international company, which instilled in her early on the importance of goal-setting. "I'd always ask myself, 'What's your monthly goal?'" Yuan says. "I'd hit a target every 10 days or every week. That's when I started to break my daily planning down to hours."
As a female entrepreneur, Yuan says it can be challenging to juggle family life and work, with even less time to spend with friends. Overall, however, support from her husband, the community and business connections have allowed her to find the right balance to make it work.
"I'm really working to maintain this," she says. "I have to look at the big picture and not worry about the little things."
Lily Yuan's 3 tips to build a thriving business
1. Have a back-up plan
Yuan says that while it was a calculated risk to purchase a second property for her art studio, she and her husband discussed options if they ever found themselves overly stretched financially. "We knew we could always sell or rent the space if worse came to worst," she says.
2. Build relationships
Yuan actively reaches out to other businesses in her area to collaborate. Many have become sponsors for her musical-theatre organization. "It's important to be active in your business community," she says.
3. Be open and seek advice
Share your business plan with people you trust and listen to their opinion. They don't necessarily have to be your business partners. Try to get a variety of opinions from friends, neighbours and parents. "Always be open," says Yuan. "Try to see things from different angles. What works in your mind might not really work, or could be improved with the right advice."