Commercial mortgage
A commercial mortgage is a loan given to a business to buy a commercial property.
Commercial mortgages are different from residential mortgages in a number of ways, including the following:
The

loan-to-value

ratio may be lower for a commercial mortgage, meaning less of the total value of the property is covered by the loan.
The interest rate on a commercial mortgage is higher than on a residential mortgage.
Commercial mortgages are usually amortized over a period of 20 years or more and repaid in regular instalments.
You can test out different commercial mortgage scenarios by using BDC's free Business loan calculator.
Money and finance
8 purchase agreement terms you need to know before buying commercial real estate
Money and finance
Buying a commercial building? Don't forget about due diligence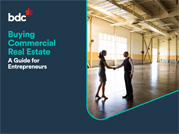 Free guide: Buying commercial real estate
Get your step-by-step guide to purchasing a place of business so you can understand whether it's the right move for your company, who can steer you through the process to avoid common pitfalls, and what you can do to budget, negotiate and finance your purchase effectively.