Wired for growth: How an entrepreneur overcame adversity
5-minute read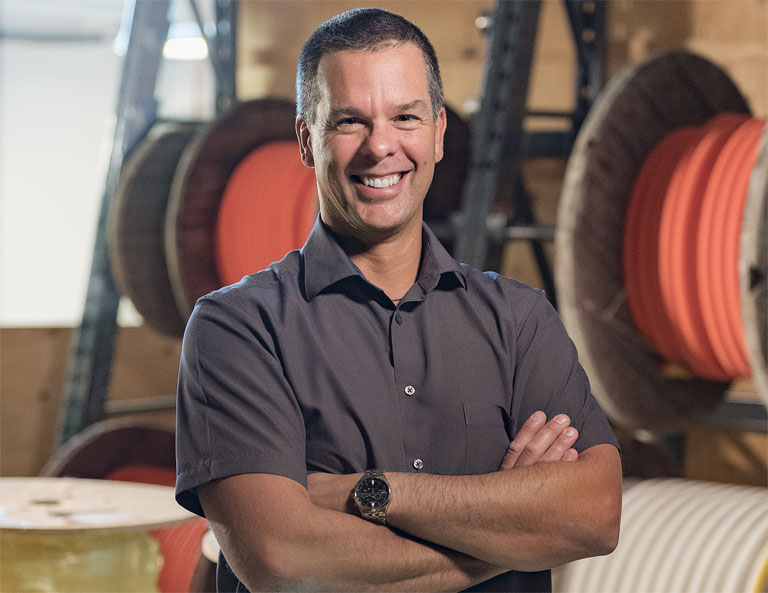 From a humble start in the basement of his home in 2002, Shawn Kersey has built Halifax‑based Data Wiring Solutions into a thriving telecommunications company with 150 employees across Atlantic Canada and Ontario.
Along the way, Kersey has shown remarkable resilience in the face of a series of setbacks. He ran into crippling cash flow problems when he bought out his partner while pursuing an acquisition and major expansions. Around the same time, his finance director died and his wife was diagnosed with cancer.
Thanks to his determination—and some smart decisions—Kersey managed to pull through and go on to win an Ernst & Young Entrepreneur of the Year Award.
Here's what Shawn Kersey had to say:
On his education…
I was born in Halifax in 1966. At the end of high school, I didn't quite know what I wanted to do. I decided to take electronics at the local vocational school. I went the first day and it wasn't for me.
I went back to high school to upgrade my marks, and then applied to Dalhousie University. Day 1 at Dal, looking at what subjects to take, I said, "No, this isn't for me either."
I worked for a year, and that was a big reality check. I worked as a labourer for a tile and marble company. I was laid off after about eight months and realized I had to get a trade because the unemployment thing wasn't fun. I took a two‑year electronics course, graduated in 1988, and that year got a job with a communications company based in Toronto.
On starting his first company…
For the next two and a half years, I travelled across Canada with them doing communications cabling, fibre‑optics splicing, terminations and testing, and really gained a lot of expertise.
I decided to go out on my own and started a communications cabling company in 1992, doing fibre‑optics splicing. I ran that for seven years and then sold it to a local power utility.
I stayed on as a director for a little over a year and realized that working for a big corporation wasn't for me. I just wasn't happy. It was really stifling.
On the growth of his business…
In September 2002, I started Data Wiring Solutions with two partners. After focusing on the residential market for a year, we decided to switch to commercial cable work for voice/data systems and immediately started landing much bigger jobs. It just took off from there. We started in the basement of my house for the first two years. We then moved into a 150‑square‑metre (1,600‑square‑foot) office and just kept growing from there.
After a few years, my original partners decided to move on and another partner came into the business with me. Over the ensuing years, it was clear that our vision and management approach were diverging, and in 2011, I realized the best thing for the company was to buy him out.
In March 2012, I completed an acquisition of a small structured cabling company in St. John's, Newfoundland. Around that same time, because of our growth, we needed a new head office in Halifax. We found a 600‑square‑metre (6,500‑square‑foot) space and did leasehold improvements, growing it to 1,100‑square‑metres (12,000‑square‑foot). That put pressure on our cash flow.
At the same time, we won a contract in Ontario and had to expand into that province with 18 to 20 technicians and a couple of managers. Locally, in Halifax, we were also expanding by 10 or 15 technicians. All this growth put more strain on our cash flow.
On getting control of your cash flow…
When you're in growth mode, it's hard to have full control over everything that's happening, including costs. Our focus was getting technicians and trucks, but we neglected the financial part. Growth can be tougher than downsizing.
In fall 2012, my director of finance took ill and ended up having a brain aneurism and dying. And during the summer of that year, my wife was diagnosed with breast cancer.
At the same time, our cash situation was facing very strong pressure from the buyout of my former partner, growth, hiring and expansion. I brought my senior management together to look at ways to reduce costs. We looked at several areas of the business where it was easy to cut costs and quickly trimmed the fat.
We also made the tough decision to close a couple of divisions that weren't doing well.
We had business loans from BDC for my partner buyout and our office expansion. They helped out with some payment holidays, and we were able to work with them on extending terms.
I also went to several of my key managers and looked for investments from them. I ended up bringing on four new shareholders, which helped stabilize cash flow and let us get the business back on track. I was very up front with them about the "state of the nation," but everyone I went to decided, yes, they were buying in.
On turning the corner…
In December 2012, my wife had her surgery for breast cancer and we closed that chapter. Everything's been fine with her ever since. But it was quite an ordeal there for a period of time—a lot on the go personally and in the business.
By March 2013, our cost reductions and operational righting paid off, and our finances had become stabilized. And from then on, we've continually improved year over year. In 2015, we had our best year in the history of the company.
What helped me get through it was to surround myself with good, strong people. When you're in trouble, you need to be able to reach out and call somebody. Those are the people you don't forget. I didn't get here by myself. It was a team effort.
What's been really nice is that in October 2015, I ended up winning the Ernst & Young Technology and Communications Entrepreneur of the Year Award for Atlantic Canada. Just to be recognized for what you've done is a nice feeling for me and the company, after everything we've been through.