Why digital investments could fuel the recovery in Alberta and Saskatchewan
4-minute read
Entrepreneurs in Alberta and Saskatchewan have been hard hit by the dual shock of the COVID-19 pandemic and a sharp drop in oil prices. Our latest survey shows that 75% of businesses in the region were negatively impacted by the COVID crisis and 59% by oil prices.
As you look for an edge to grow your business in this difficult climate, the survey suggests that investments in digital technologies could be the springboard your business needs to emerge from the recession stronger and better positioned for growth.
Our survey found that high-growth businesses in Alberta and Saskatchewan were more likely than other businesses to be using digital technologies to support their sales and marketing efforts and make their processes more efficient.
Combine digital technologies with diversification
To maximize growth, entrepreneurs might want to combine tech investments with a strategy to diversify their business activities. In my last blog post, I highlighted findings from the same survey that suggest businesses that diversify through such strategies as finding new markets and launching new products are more likely to experience high growth.
Our survey of 500 small and medium-sized business owners and decision-makers in Alberta and Saskatchewan found that over three-quarters are already using at least one type of digital technology. Marketing tools were the most popular, followed by creating an omnichannel customer experience and selling products and services online (Fig. 1).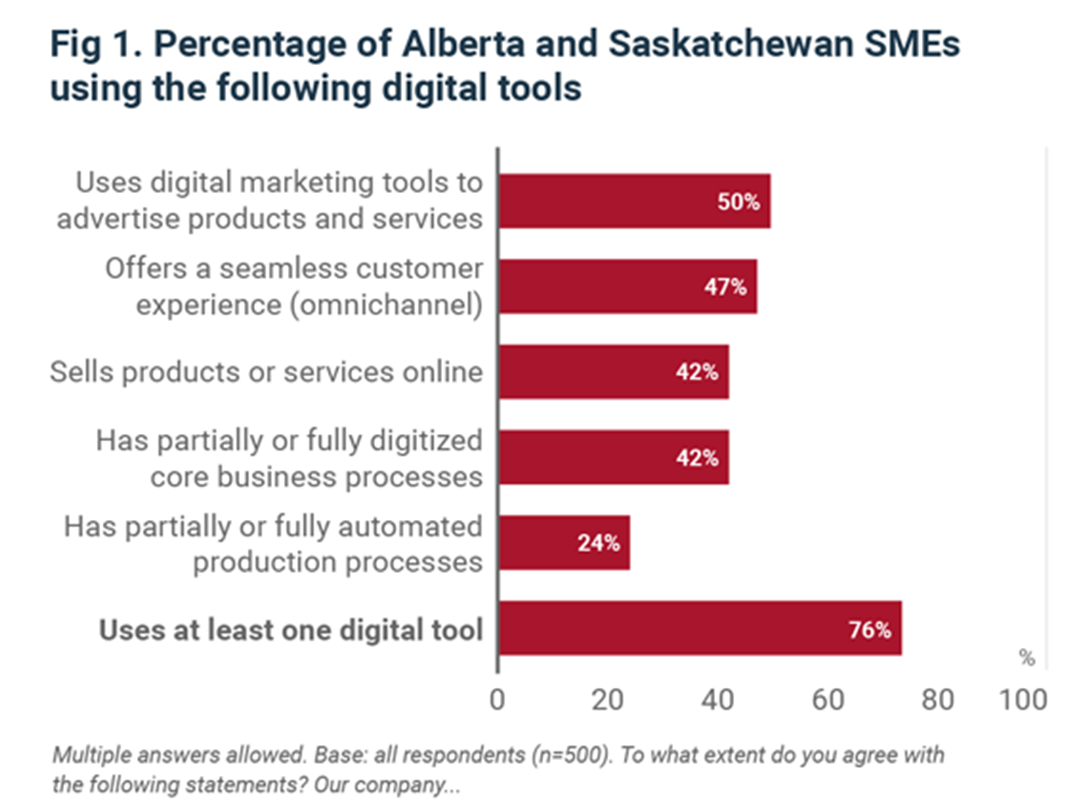 Overall, 85% of companies that achieved high revenue growth (over 10%) in the previous year used at least one digital technology.
In particular, businesses that automated their production processes or used digital marketing tools were more than twice as likely to have experience fast growth as those that didn't.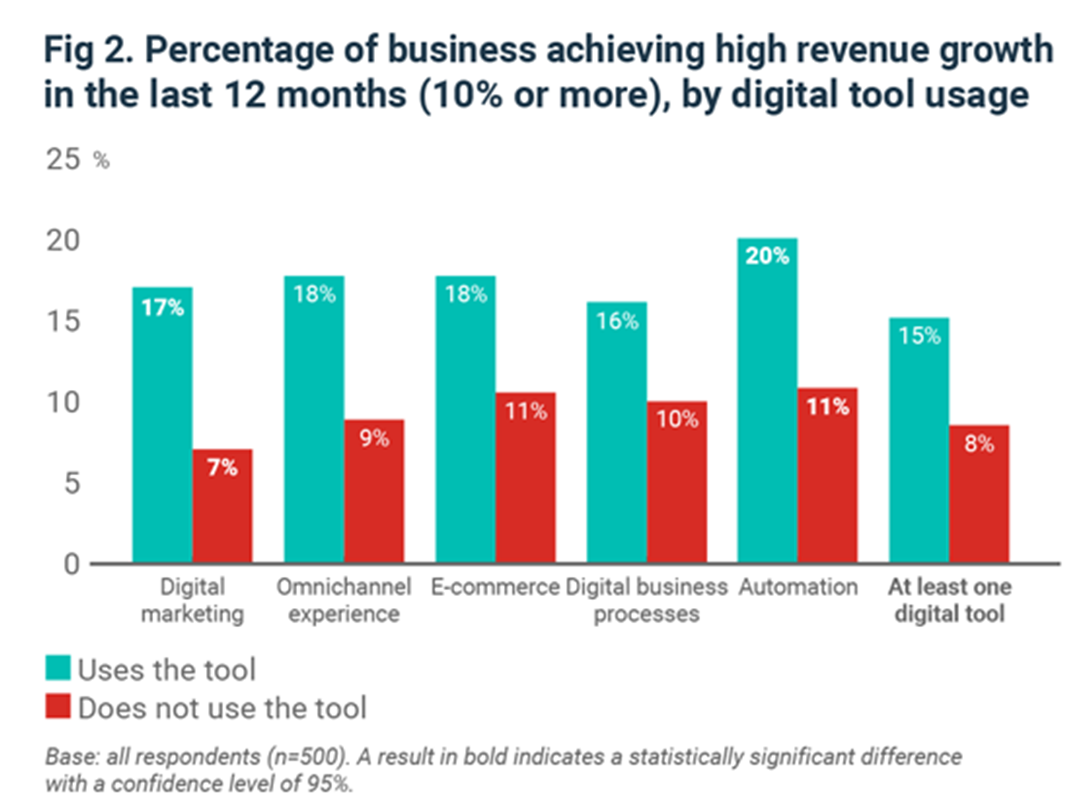 Our survey also confirms that using digital tools provided an important advantage to companies during the COVID-19 crisis. Overall, 82% of the entrepreneurs who said their business had been positively impacted by COVID-19 used at least one digital technology.
A well-established trend accelerated by the COVID-19 crisis
The success of companies who use digital tools can partially be explained by the fact that they were well positioned to benefit from the growing popularity of e-commerce in the wake of the COVID-19 crisis.
Indeed, for the first three months after the start of the health crisis, online sales exceeded the level of the 2019 holiday season, which is usually the busiest time of the year.
These new online consumption habits are expected to linger on once the current crisis is over. Our data shows that 50% of both older and younger Canadians have made at least one new type of online purchase since the beginning of April. According to a consumer survey conducted over the summer by polling firm Leger, eight out of ten Canadians who have made new types of online purchases intend to continue doing so after the crisis.
National survey finds entrepreneurs are turning to digital
In another recent survey conducted nationally , we found that entrepreneurs are giving a high priority to technology investments as they work to recover from pandemic lockdowns.
The survey of 1,000 Canadian small and medium-sized businesses found that entrepreneurs rate increasing tech investments as their second most important priority in the recovery after getting their company's finances back on track.
Among those entrepreneurs who plan to boost their technology investments, 58% said this would increase their competitiveness coming out of the COVID crisis while 46% said it would allow them to stay in business.
Digital technologies support innovation
Meanwhile, our survey of Alberta and Saskatchewan entrepreneurs suggests that the use of digital technology is associated not only stronger growth, but also greater innovation.
It found that businesses that had introduced an innovation during the previous three years were more likely to have used digital technologies than those that had not innovated (Fig. 4). That's important because studies have shown that innovation is the most important determinant of success for small and medium-sized businesses.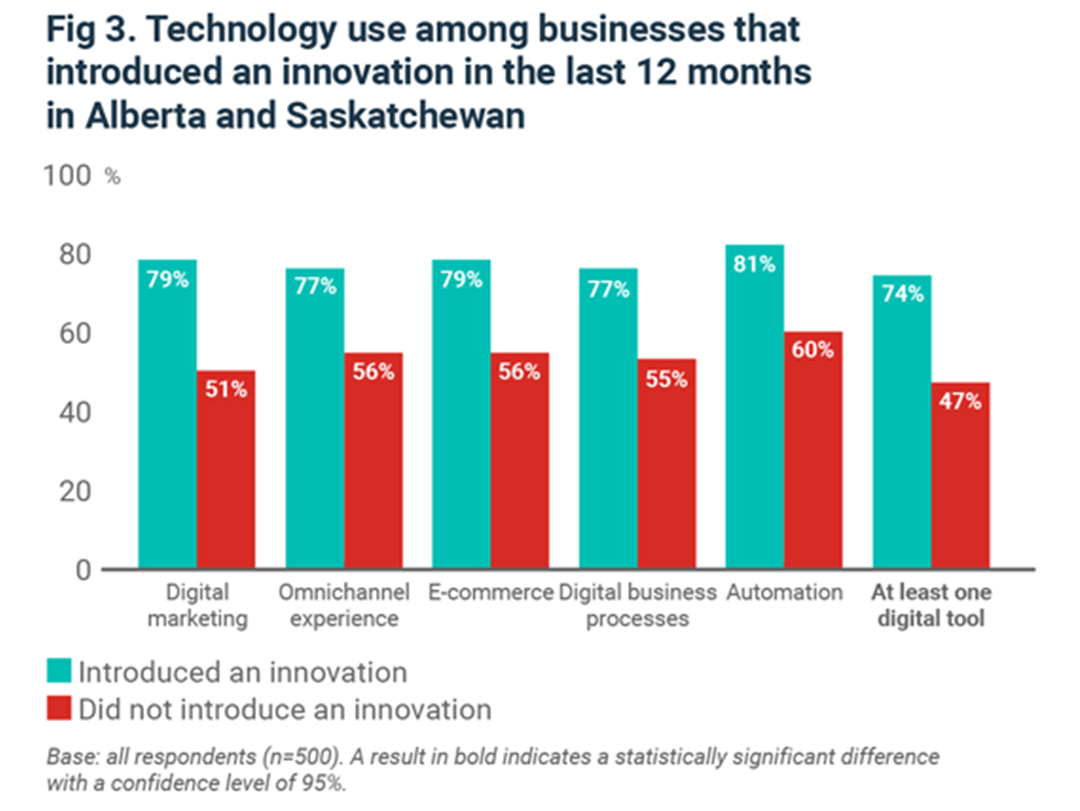 Our survey also found that businesses that invest in research and development were twice as likely to be high growth and innovative.
Invest in digital for renewed growth
Taking the results of the survey together, it's clear that—along with diversifying your business—you should be focused on investing in digital technology to boost sales, streamline operations and spark innovation as the economy recovers from the pandemic and oil-price slide.
By doing so, you will be following in the footsteps of the most successful businesses in your region in building a company that has the tools to grow and prosper in the months and years ahead.