Does your productivity match the competition's?
As a CME member, do you know how your business compares with other Canadian firms in your industry?
In your productivity toolkit, you'll find: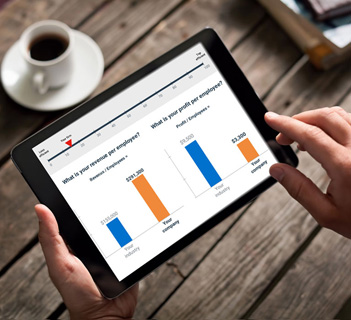 A productivity benchmarking tool to:
Compare your business to other Canadian firms in your industry
Discover your potential for improvement
Get a detailed, printable report for easy reference
Or, to get your complete productivity toolkit, fill out the form.
Plus
productivity-specific

content to help you tackle the challenges of productivity and operational efficiency in your business:
eBook
Discover how to create a leaner, more profitable business
Webinar
3 essential projects to boost your business productivity
Article
A series of articles to help you tackle the challenges of productivity
Report
Productivity matters: Benchmarking your company to up your game
Let BDC help you build a stronger, more profitable manufacturing business
Whether you are looking to increase revenues, better manage your business or improve your operations, we can help with a full suite of business loans and advisory services. You could also visit a business centre near you to meet with our experts.
About BDC
We are the only bank devoted exclusively to entrepreneurs. Wherever you're located, we are easily accessible from any of our business centres across Canada. To discover the bank of entrepreneurs, visit us as bdc.ca.