Matt Price is Managing Director, Growth & Transition Capital in our Vancouver office. Before joining BDC, Matt has spent nearly 10 years working across North America and Asia in corporate financing. With experience in structuring non-traditional financial terms, Matt is adept in harnessing a broad range of tools including cash-flow lending, mezzanine financing and direct equity investments, all depending upon the needs of the individual client. Matt's true interest lies in helping businesses grow—and finding unique, sophisticated financial arrangements to facilitate that outcome.
Recent posts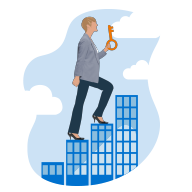 October 10, 2017 | Growth & Transition
What is unitranche financing and how can it help my business?
Unitranche is a form of financing often used by mid-sized companies to help fund acquisitions or transitions. Find out if it could be right for your business.
Read post