Unitranche financing enables Ben-Mor to make a double acquisition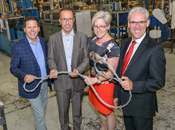 Ben-Mor is the largest manufacturer of slings and cable assemblies in Canada. Founded in 1992, it now boasts more than 325 employees in nine facilities across North America. Headquartered in Sainte-Hyacinthe, this business manufactures all of its products on Canadian soil. In 2018, the company has reached $100 million in sales due to organic growth of 15% to 20% per year and a strong acquisition strategy, which have enabled the business to expand its activities and broaden its range of specialized lifting equipment. Some 80% of the company's sales are generated in Canada and the United States, with the remainder in South America.
The challenge: two companies, one buyer
Ben-Mor was looking to acquire two companies operating in the lifting equipment sector in the Prairies. One is located in Winnipeg and the other has facilities in Saskatoon and Regina. The owner of the companies stipulated strict conditions for the sale; both of his businesses, including their commercial buildings, had to be acquired by the same buyer. As a result, Ben-Mor needed financing that was tailored to the complexity of this transaction.
A combination of secured and unsecured debt
As a solution, the Growth & Transition Capital team recommended unitranche financing, which is designed for highly customized transactions. Its key advantage lies in its simplified loan structure. This type of financing combines different types of secured and unsecured debt in a single loan, which accelerates the acquisition process. In addition, the repayment terms are established based on the company's cash flow.
BDC's unitranche solution enabled Ben-Mor to complete the acquisition within the required timeframe. This was a strategic move that enabled the Saint-Hyacinthe-based business to increase its production capacity and bolster its manufacturing activities in Canada. This solution also reduced the number of legal documents required, which met the satisfaction of Ben-Mor's four shareholders.
"With unitranche financing, BDC offered us a comprehensive solution to successfully make this acquisition, which was different from other transactions we conducted in the past. We rarely purchase buildings, but in this case, it was a prerequisite for completing the sale. We wanted to move forward with the transaction as it allowed us to reinforce our position as an industry leader in Canada," concludes Benoît Frappier, President and CEO.