A Calgary recycling business helps its clients save money by reducing waste
Harvest Recycling wants to divert the garbage going to landfills
5-minute read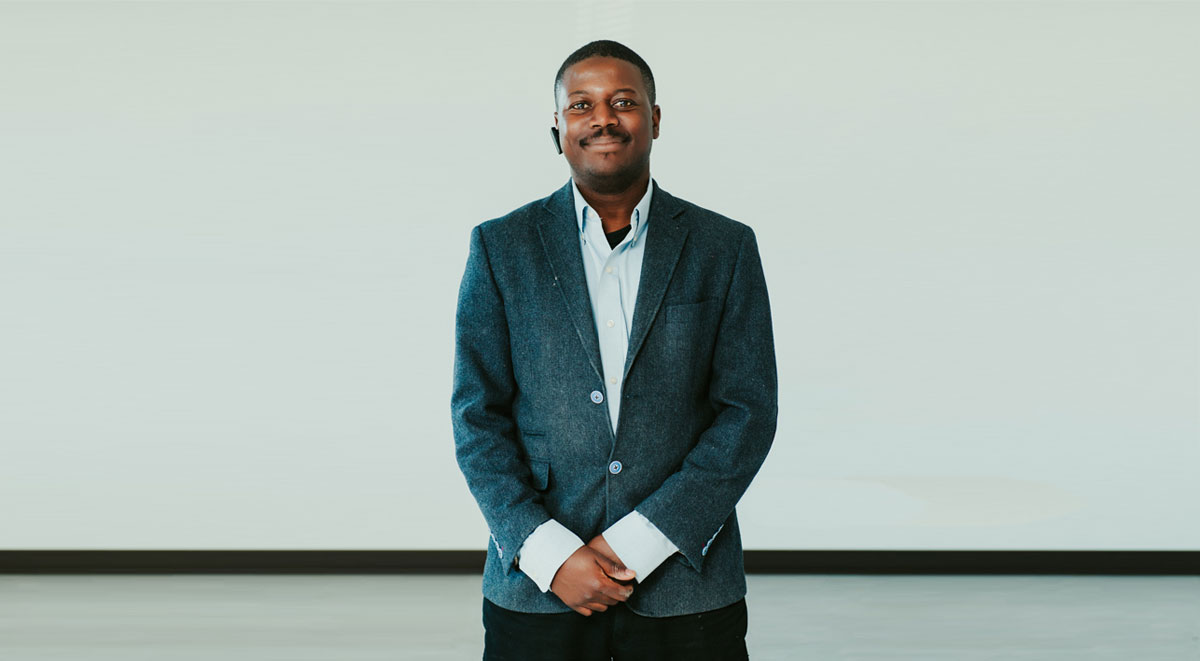 Peter Olorundimu, Founder, Harvest Recycling
Peter Olorundimu was working as a computer specialist when he became increasingly concerned about environmental issues.
"It was incredible to see how much waste was being thrown into the landfills—tons and tons of waste every month," says Olorundimu.
"I didn't know much about recycling then, but I thought, 'There's something not right there, and there must be a better way.'"
In 2010, Olorundimu started what was then a part-time business, Harvest Recycling. He began modestly with only himself and one truck, and he worked evenings and weekends while holding down a full-time job in the computer industry.
"I did sales, I did operations, I did accounting—I did everything. It was just me," he recalls with a laugh.
Three years later he left his day job to focus on his recycling company. Over the years, his company has grown and now has seven full-time employees.
"Since I've got into it full-time, I've never looked back," he says proudly.
Reducing the waste going to landfills
"We collect different kinds of waste from different clients, then take it to the appropriate disposal site so it is disposed of appropriately," Olorundimu explains.
His pitch to clients is that a few changes will improve the bottom line. Some of his clients include 7-Eleven, Starbucks Coffee and Tim Hortons.
"Often by making minor changes, like putting in recycling bins for plastics, a lot of material can be diverted from the landfill. It's good for the environment, and businesses can save money," he adds.
"We pride ourselves on what we are doing to address landfill waste."
The road to recycling
Olorundimu was born in Nigeria and came to Canada to attend university. He earned a degree in business with a major in computer science, graduating in 1999.
"After I finished university, I worked with companies like HP and Dell. I also worked with some property management companies, and that's when I discovered there was a lot of waste," Olorundimu says.
"There are a lot of recyclables, like plastic wastes and metal wastes. At food processing plants and restaurants, there is often a lot of food waste. Only small changes are needed to reduce the amount going to landfills. I find at restaurants often about 65% is food waste and 15% are recyclables. So only about 20% is actually garbage that needs to go to the landfill. We are helping people to look differently at their waste," he says.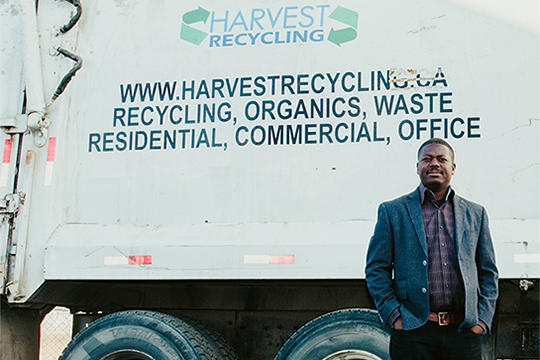 Helping businesses to reduce waste going to landfills
Olorundimu thinks people may be reluctant to recycle because they believe it would take too much time to separate their waste.
"In most cases, I get the impression that businesses think it would be more expensive and more time consuming to divert waste and recycle. They think it's easier to just put everything in the trash and have it taken to the landfill. But we've done a lot of research to find simple and effective collection methods that make it easier to sort their waste," he says.
Olorundimu says very often when businesses see what his company can do, they are open to the ideas.
"We have a program specifically for restaurants, and when we go to a restaurant and show them how it works, often their response is, 'Really? Is that all?'"
Getting help from BDC
Even with a business degree, Olorundimu found that one of his biggest challenges was marketing. As he puts it, "Although I had the basics, I wouldn't say I'm the best marketer."
Then he heard about the Business Development Bank of Canada through other entrepreneurs.
"I thought, 'why wouldn't I want to deal with an organization that is doing so much to help small businesses?' They're definitely on my side," he says.
Olorundimu says that working with BDC's Advisory Services has been helpful in coming up with strategies for digital marketing, driving traffic to the website and doing online advertising.
"We got some ideas on how to proceed, and some practical materials that have been helping us ramp up our marketing efforts," he recalls.
That's helped him provide added services to his clients. The focus is still on reducing landfill waste, but now Olorundimu also offers consulting to companies to advise them on better ways of handling waste. On top of recycling, businesses can also compost their organic materials.
"We want to have more impact than just collecting waste," says Olorundimu.
Adapting to the pandemic
The COVID-19 pandemic had slowed down Harvest Recycling at the start.
"Our business dropped about 30%," Olorundimu says.
At the time he worried about having to lay off his employees, but then he hit on another solution. Everyone kept their jobs but took a cut to their weekly hours and pay.
"It's been slowly coming back. We had to improvise, and re-think what we're doing."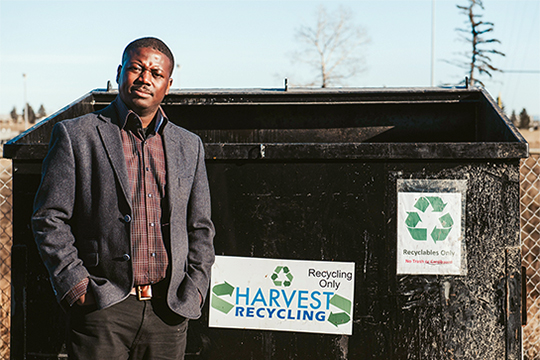 The future of Harvest Recycling
Olorundimu says he's seen a change in attitudes since he started Harvest Recycling. Some of his clients have felt the weight of consumer pressure as customers grow increasingly interested in making greener choices.
Becoming more sustainable also helps his clients grow.
"Over time, most people realize the value of having green measures in place and having a recycling program in place. If you do more recycling, your garbage will be reduced, which will save you money."
The next step in growing his business is to set up franchises. Olorundimu's target is to have three Harvest Recycling franchises up and running in Alberta by the end of 2023. Then the next step will be to expand to other provinces in Western Canada. Within five years his goal is to have franchises in major cities across Canada.
Olorundimu and has wife have two sons, ages 6 and 12. He says he's grateful for their support and understanding and that his sons are an important reminder of the future.
"Diverting waste is something you can see. I'm making an impact for future generations."