Business performance benchmarking tool
Length of survey: 3 minutes
What do Canada's top companies all have in common?
No matter the industry, they all have significantly higher sales and profits per employees than their peers.
The most important step to improving your business's performance is knowing where you stand in your industry.
Use this free tool to easily benchmark your revenue and profit per employee against your industry peers.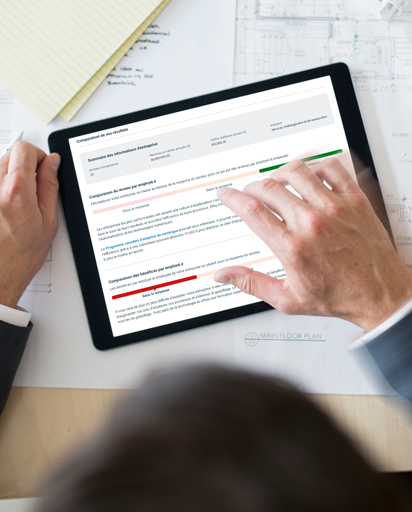 3 reasons to use the tool:
Rank your business against others in your industry

see how you compare based on Statistics Canada data

Quickly find out if your business is efficient

to maximize business performance

Get a detailed report and talk to an expert*

to get advice to improve your business
*Certain conditions apply
Frequently asked questions
What is the business performance benchmarking tool?
The business performance benchmarking tool compares your company's performance against your industry peers in two specific areas: revenue per employee and profit per employee.
A BDC study has shown that, compared to less efficient businesses, the most productive Canadian companies in their industry generate:
6 times

more sales per employee

5 times

more profits per employee

4-times-higher

EBITDA per employee, which results in a much higher valuation for the business.
Being more productive means producing more goods or delivering services with fewer or equivalent resources.
Where does the benchmark data come from?
The performance-by-industry data was collected and analyzed by Statistics Canada's Canadian Centre for Data Development and Economic Research (CDER).
BDC has adapted the data for the business performance benchmarking tool.
How does BDC ensure the confidentiality of your data?
You will not need to provide any identifying information to view your results on screen. An email address will need to be provided should you wish to download a detailed, printable version of the report. All data you provide will be used solely by BDC. Your information will not be transmitted to third parties.
Can BDC help my business improve its performance?
We work with entrepreneurs every day to help them improve the performance of their business so they can grow and achieve their goals.
We offer tailored advisory services and flexible financing to help you get the most out of your resources and launch new projects. We support entrepreneurs in all industries and at all stages of growth.