Why we invested in Carbon Upcycling
An innovative technology company tackling two major problems: climate change and industrial waste
9-minute read
Carbon Upcycling—a leader in circular decarbonization solutions for hard-to-abate sectors—has just closed a US$ 26 million Series A round co-led by BDC Capital's Climate Tech Fund and Climate Investment.
With a solution that has a permanent and quantifiable impact, Carbon Upcycling is part of a growing Canadian cohort of innovators bringing technology to scale to reduce the high greenhouse gas (GHG) footprint of cement and concrete.
Here is why we invested in Carbon Upcycling (and why we won't stop here).
The challenge
Concrete is the most widely-used substance on Earth after water. Cement is the glue that keeps concrete together and its most GHG intensive ingredient.
To make cement, you need to heat limestone (a type of rock) to very high temperatures, releasing large quantities of CO2. This makes cement production one of the world's most carbon-intensive industries, accounting for 8% of global CO2 emissions.
Manufacturing cement releases 0.8 tonnes of CO2 into the atmosphere for every tonne of cement produced. This is why technologies to replace or reduce cement in concrete have a massive impact on GHG emissions.
Rising global population is constantly pushing up the demand for residential buildings around the world. As a result, the global cement market is projected to grow from US$341 billion in 2022 to US$482 billion by 2029 at a compound annual growth rate (CAGR) of 5.1%. 500 kg of cement is produced per human every year.
Reducing CO2 emissions while keeping up with the increasing demand is the biggest challenge facing the cement and concrete industry.
The solution
Carbon Upcycling—a carbontech Calgary-based company—has developed and patented a novel technology to help reach a circular net-zero emissions future. Their technology produces a low-carbon cement replacement that can reduce up to 50% of clinker in cement—reducing the GHG footprint of cement by almost half.
Their technology reduces GHG emissions in two ways. First, by sequestering CO2 from industrial flue gas into waste materials used to replace cement (CO2 removal) and second, by reducing the amount of cement required in concrete (CO2 avoidance).
Their technology is practical and innovative: They take abundant and low-cost industrial by-products, like steel slag and fly ash, and combine them with CO2 to permanently mineralize it. The result: A low-carbon, high-performance cement replacement that is permanently storing CO2 and can replace up to 50% of clinker in cement while improving strength and durability of the end product concrete.
The performance of several of Carbon Upcycling's low-carbon cement replacements have been validated by some of the largest global cement producers including CEMEX, CRH and others.
Carbon Upcycling has scaled its technology at a rapid pace, going from treating grams in a lab in 2016, to kilograms in 2018, to tonnes in 2021. They are now engineering and deploying their first two industrial scale projects at cement plants with CRH and CEMEX.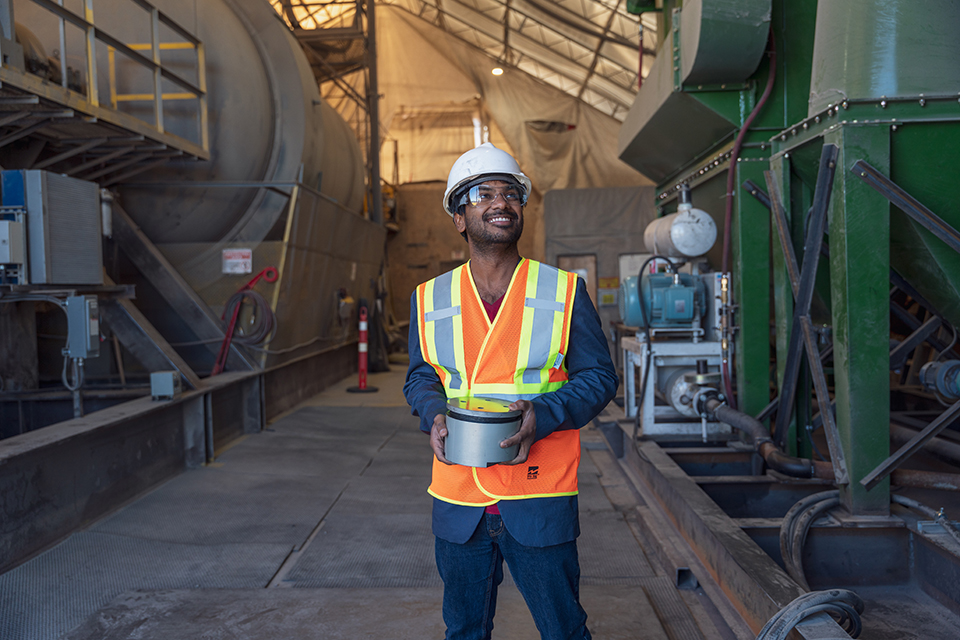 Apoorv Sinha, CEO of Carbon upcycling (Photo provided by Carbon Upcycling)
Carbon Upcycling's technology is scalable and easily quantifiable. Its impact is also permanent: The CO2 mineralized into the cement replacements is a permanent form of CO2 storage.
This is an important selling point for potential clients as an increasing number of economies and companies aim to achieve net-zero.
Their technology can be integrated into a cement plant's existing flue stack and material handling systems to directly mineralize CO2 emissions into the industrial by-products they are upcycling. As such, the sequestered CO2 never goes into the atmosphere and this is one of the many reasons why we like Carbon Upcycling's technology.
Beyond the important GHG emissions reduction benefits, there is also the upcycling benefit. Industrial by-products used by Carbon Upcycling as feedstocks to put into cement would have ended up in landfills. Instead, that waste is used to build cities.
The investment
Our investment in Carbon Upcycling is part of BDC's commitment to sustainability and contribution to help advance Canada's 2050 net-zero ambition.
BDC Capital's Climate Tech Fund and Climate Investment co-led this US$26 million Series A round into Carbon Upcycling.
Their technology brings about significant GHG emissions reductions, and it can be implemented globally. This is very much in line with our Climate Tech Fund investment thesis.
The company has a clear path to market through strong partnerships with global cement industry leaders, such as CRH and CEMEX who are reinvesting and with whom it is building its projects.
The company has also done an incredible job of accessing non-dilutive capital, such as grants. This has allowed them to reach an advanced development stage with little dilution.
The new round of funding will be used to deploy a string of industrial scale projects to validate the cost effectiveness of Carbon Upcycling's solution. It will support the first fully industrial-scale carbon capture and utilization (CCU) deployments at cement plants in North America and Europe.
With a bold value proposition to tackle climate change and industrial waste, a solid IP-strategy and portfolio, a strong team with a vision, an innovative technology to achieve significant measurable and permanent GHG mitigation for high-emitting sectors like cement, steel, and mining—Carbon Upcycling is checking all the boxes.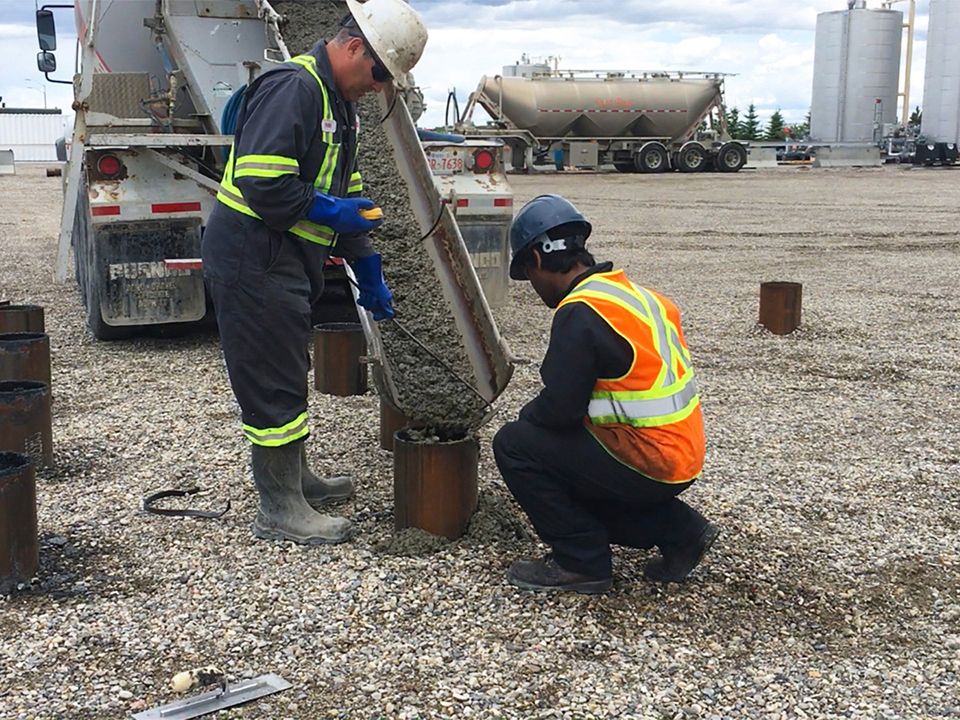 Photo provided by Carbon Upcycling
The future
With 30 employees and several patent applications in progress and granted, Carbon Upcycling is one of 12 Canadian companies featured on the 2023 Global Cleantech 100 list. Several other BDC Capital portfolio companies feature on the list: Eavor, Ekona Power, e-Zinc, GaN Systems, GHGSat, Hydrostor, Mangrove Lithium and Svante.
Apoorv Sinha, founder and CEO of Carbon Upcycling, has built a dynamic, knowledgeable team. They are part of a growing cohort of Canadians trying to develop the clean energy technologies of the future.
Our fund was created to support innovators like Apoorv and his team; to help position their companies for rapid growth, as they operate in capital-intensive industries, with a long path to commercialization. This is where we see a gap in funding; it is exactly where we need to be as investors and partners of entrepreneurs.
Our commitment to Carbon Upcycling is one of the first investments from the $400-million Climate Tech Fund launched in November 2022 but not the first one aiming to decarbonize the built world or the cement industry.
We previously invested in CarbiCrete, a carbon removal company whose patented technology enables the production of cement-free, carbon-negative concrete made with industrial byproducts and captured carbon dioxide. BDC Capital's Industrial, Clean and Energy (ICE) Technology Venture Fund also invested in CarbonCure Technologies, whose solution enables concrete producers to use captured carbon dioxide to produce reliable, low-carbon concrete mixes.
These Canadian companies are developing solutions to tackle the emissions from one of the highest-emitting industries on Earth—cement.
And we are there to support them. They are exactly the type of leaders that we are looking for at BDC Capital's Climate Tech Fund and the reason why we exist.
Our goal is to help these innovators commercialize and scale their technology. It is the most powerful contribution BDC can make to help build a clean, low-carbon, circular economy.
Contact us if you think we could help your business.