Pierre-Olivier Bédard-Maltais
Director, Economic Research
Pierre-Olivier Bédard-Maltais is the director of Economic Research at the Business Development Bank of Canada (BDC). In this role, he is responsible for setting the research agenda and supervising a team of economists specializing in the performance of Canadian small and medium-sized enterprises. Since joining BDC in 2015, Pierre-Olivier has completed a series of highly regarded research reports on business investments, technological change, entrepreneurial trends and the manufacturing sector.
Before joining the Bank, Pierre-Olivier worked for seven years at Industry Canada, where he was responsible for economic analysis and policy for small businesses, technology and the manufacturing sector.
He holds a master's degree in Economics and a graduate diploma in Data Mining.
Recent posts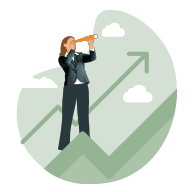 November 11, 2021 | Economic perspective
Top trends affecting Canadian businesses
What lies ahead for Canadian businesses between now and 2030? A look at the key trends.
Read post