Jonathan Pastrikos
Senior Business Advisor
Jonathan Pastrikos is a Senior Business Advisor and project leader at BDC, where he uses his experience to help entrepreneurs develop their technology strategy and source the right solutions to solve their business problems. Jonathan holds a U.S., CPA designation and has been working with technology consulting firms for the last 12 years—using his in-depth knowledge of enterprise software to help clients in a wide range of industries.
Jonathan is a client focused professional who loves learning about new technology and believes that a strategic and methodical approach to technology adoption is critical to the success of today's entrepreneurs.
Recent posts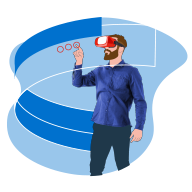 August 28, 2017 | Technology
IT strategy: 6 steps to creating your technology roadmap
Creating a technology roadmap will help you to align your IT projects with your strategy and define your needs before making an investment.
Read post