Dave Girolami
Senior Business Advisor
Dave is a digital marketing and experience planning consultant with over 15 years' experience.
Based in Toronto, Dave joined BDC's advisory services team in 2017. He is passionate about helping clients provide their customers with meaningful and valuable experiences, underpinned by the use of the right technologies, which deliver on measurable lead generation goals and sales results.
He has worked for multinational clients, started several of his own ventures—including a marketing consultancy group, a brewery and a digital culture non-profit—and helped scale up one of the world's most recognized global design and technology events. All of this has given him a unique perspective on how to effectively use the evolving marketing ecosystem to drive business growth.
Dave enjoys staying on the cutting edge of immersive creative and technology trends. He also enjoys frequent rural Ontario weekend getaways with his family, is an avid runner and is finally learning to play hockey.
Recent posts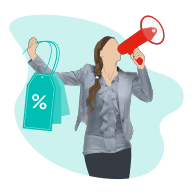 July 09, 2018 | Sales and marketing
Why a cheaper website isn't always the best option
Trying to build a website on the cheap can end up hurting your online presence and your brand. Find out what it takes to do it right.
Read post