Chris O'Shea
Business Consultant
Chris O'Shea is a business consultant at BDC. He has spent that last number of years working in sales and marketing consulting with BDC. Prior to that, he was developing growth strategies for entrepreneurs and businesses across the country in the agency world. In his 20-plus year career, Chris has also worked in sales, web development, digital marketing, business analysis and technology consulting. He is a client focused and technically savvy professional with a passion for turning business needs into results driven solutions. An advocate of clearly defined processes, he constantly looks for ways to align technology with requirements while always keeping an eye on the bottom line.
Recent posts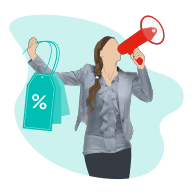 July 16, 2020 | Sales and marketing
Restart your marketing as the economy reopens
Marketing budgets are one of the easiest expenses to cut for cashflow purposes but taking your foot off the marketing gas pedal can be self-defeating.
Read post