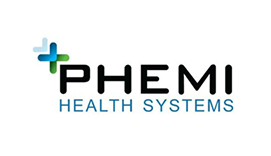 Portfolio company
Phemi Health Systems
Details
Region
Prairies and West
Industry sector
Digital health
Learn more
Our partnership
Phemi Health is a BDC Capital Healthcare Venture Fund company, co-managed in partnership by Amplitude Venture Capital.
Contact
Dion Madsen, Founding partner at Amplitude Venture Capital.
About the company
PHEMI Health Systems is a process automation and Big Data platform company that unlocks patient data to improve clinic productivity, patient outcomes, and medical research.