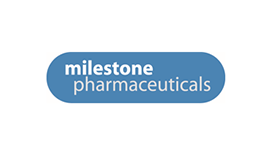 Portfolio company
Milestone Pharmaceuticals
Details
Region
Quebec
Industry sector
Drugs
Learn more
Our partnership
Milestone Pharma is a BDC Capital Healthcare Venture Fund company, co-managed in partnership by Amplitude Venture Capital.
Contact
Dion Madsen, Founding partner at Amplitude Venture Capital.
About the company
Milestone is a drug development company developing novel small molecule therapeutics based on clinically validated mechanisms for cardiovascular diseases. Milestone's lead product is a novel and potent short-acting calcium channel antagonist for the systemic treatment of transient cardiovascular conditions such as atrial arrhythmias and angina.