Marrying material and impact: Fair Trade Jewellery Co.'s
12-year

journey to find ethical gold

These entrepreneurs are changing traceability in the global mining industry

6-minute read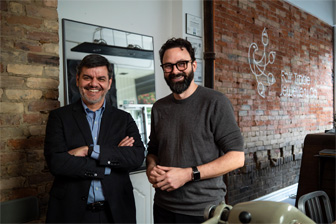 Ryan Taylor was a designer goldsmith in Toronto when a client asked him where his gold was coming from. Answering that question has taken him on a 12-year journey to change the way the mining industry does business around the world.
Along the way, Taylor and his co-founder, Robin Gambhir, created one of the world's first jewellery companies to carry Fairtrade certified gold: Fair Trade Jewellery Co. This Toronto-based company designs and manufactures ethical jewellery. It also creates market opportunities for artisanal small-scale miners around the world.
"You have these symbols of love and trust and commitment," says Taylor, who now works as chief designer officer at their spin-off software company Consensas. "You need to be able to prove that your gold didn't take opportunities away from somebody else so you could feel good."
In trying to source ethical gold, Taylor flew around the globe to find gold that could not only be traced back to its origin, but where he could also understand the effects it was having on mining communities. Gold is typically taken from multiple sources before being mixed together during the refining process, making it impossible to know where the end product came from.
It took Taylor a full year to find a mining community in Colombia from whom they could purchase gold directly. The company now works exclusively with artisanal miners and has also expanded into sourcing ethical diamonds and traceable jewels.
A mix of personalization and purpose
Early on, the co-founders understood that many customers are not interested in ethical sourcing.
"We actually have to be really good jewellers to succeed," Taylor says. "We cannot expect people to purchase products because they are responsibly sourced; we have to be every bit as good as the luxury jewellery brands we compete with."
The company designs all of its jewellery to specification. In the back of their retail space, the team uses micro production techniques such as computer-aided manufacturing and 3D printers, as well as the hand-finishing techniques that have been in use for centuries, to customize everything they make.
"I wanted to create a studio that had modern and efficient workflows," Taylor explains. "With applied technology, one person can do the job of many. We combine that with master craftsmanship and we can create some of the most unique jewellery in the world."
The mix of personalization and purpose has brought them steady business. Taylor and Gambhir now employ 12 people. "It's not unusual for us to experience 40% to 50% year-over-year growth," notes Gambhir.
The company has also received a number of certifications for its ethical and environmental commitment including the B Corp designation, which recognizes businesses that balance purpose and profit.
Beyond labelling initiatives
After more than a decade in business, Taylor and Gambhir felt they weren't doing enough to prove the materials they were using were actually doing good. The jewellery industry relies on written assurances from suppliers that the gold, diamonds and other jewels it uses do not, for example, come from conflict zones or use child labour.
"Logos and certifications are often awarded based on a narrow set of assurances," Taylor says. "We really wanted to get beyond these labelling initiatives to facilitate evidence of impact; trusted information that is owned by the communities that contributed it."
To this end, Consensas was created as a spin-off company that digitizes the supply chain paper trail for precious metals in conflict areas, from extraction to export. BDC provided financing to help the new company take off.
Measuring the impact on local communities
In 2018, Fair Trade Jewellery Co. and Consensas teamed up with IMPACT, an Ottawa-based non-governmental organization, to provide traceability and due diligence data for an artisanal gold project in the Democratic Republic of Congo.
"It was like a bet-the-company project," says Gambhir, who administers the business side of Fair Trade Jewellery Co.
The result was the first-ever, fully traceable, artisanal gold coming out of the Congo. The data collected along the supply chain was also used to understand how the mining operations were affecting the local community.
"We're marrying impact statements to material. So we can, for the first time, say with absolute certainty that a ring was produced by women, mined by women and produces a measurable health and welfare benefit, and back it up with evidence," explains Taylor.
A grand vision
With a first project under their belt, Taylor and Gambhir now want to bring in more artisanal miners into the global mining and jewellery industries. Rare earth minerals such as cobalt, which is an essential mineral in making electronics, offer a particularly interesting case for the use of their technology.
"Consensas's grand vision is to empower the most marginalized people with tools to legitimize and compete in the global marketplace," says Taylor. "That's the moonshot."
And while there have been some naysayers, their experience building up their jewellery company has allowed them to begin conversations with some of the biggest players in the mining industry.
"When I first went out and started looking to create closed supply chains to be able to tell people where their gold came from, the industry literally told us: 'You can't do that, it's impossible.' And yet we did it," says Taylor.
3 tips to help your business grow
1. Find your North Star
Being an entrepreneur isn't always easy, there can be financial troubles, and the work is often exhausting. Taylor says the trick is to be passionate about the problem you are trying to solve.
"It's the North Star. That's the thing that's going to keep you on your path. You might stray from your path, sometimes. But you'll always re-orient yourself towards the problem."
2. Give employees a sense of purpose
Fair Trade Jewellery Co. had a lot of employee turnover in its early years. As Gambhir and Taylor became better business people, they understood that hiring and keeping good employees is about building shared values amongst team members.
"One of the reasons why we are able to attract the best talent is that people come to work with a sense of purpose," says Gambhir. "They're not just making pretty things. They are making things that have intent and impact."
3. Don't be afraid to insist
People do not like changing the way they do things. And bringing a new product to market, or changing established ways of doing things in an industry is difficult, at best. Taylor says you shouldn't be afraid to insist if you truly believe in what you are doing.
"People like to talk about innovation and doing new things, but people hate new things," he says. "Howard Aiken, one of the early engineers at IBM, said 'don't worry about people stealing an idea. If it's original, you will have to ram it down their throats.'"