Improving company management: How one entrepreneur rediscovered her passion
Designer Judith Portier had to take a step back to better plan for growth
5-minute read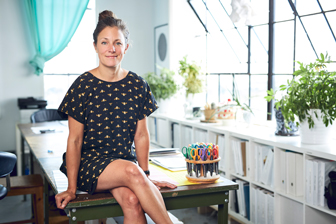 Projects kept following one after the other at lightning speed for Judith Portier and projects just kept piling up on her drafting table—to the point where the young environmental designer no longer knew where to focus.
"The abundance of projects, and the number of hours we spent on them, forced us to maintain a pace of work that became unsustainable in the long run," admits Judith Portier, whose company, Design by Judith Portier, specializes in designing and developing event and festival sites, kiosks and other short-term installations in public spaces.
Portier's design workshop had experienced considerable growth since its launch in 2011. But after several years of non-stop expansion, the Montreal designer was starting to run out of steam.
Yet rather than relying only on herself, Judith sought out expert advice to improve her management skills and apply them to her business.
Tools for success
The young Montreal businesswoman "never thought she'd be an entrepreneur one day." But after collaborating on several projects for various creative agencies as a freelancer, working on and fulfilling her own ideas for her own clients became the natural choice.
As a result, she took various courses on starting and growing a business. "I wanted to give myself the proper tools to embark on this great adventure," she says.
This entrepreneurial training produced results and contracts started coming one after the other.
The firm designed projects for events like Igloofest, C2MTL and the Osheaga Music Festival, as well as container boutiques at Montreal's botanical garden and temporary exhibitions for the National Film Board.
It was also a collaborator in creating a space where the public could explore the history of the Orchestre symphonique de Montréal through digital or audiovisual works.
"I couldn't see straight anymore"
But the frantic pace at which business was growing eventually affected Portier's efficiency. "By saying yes to every project, I was always running, I couldn't see straight anymore," explains Portier, who was also realizing that there is a world of difference between being an entrepreneur and being a manager.
That's when she turned to BDC to help her take stock of her business—and its future. The Bank introduced her to a business coach who helped her through this journey.
The training first took her back to the basics by working on concepts as simple as the company's mission. "I was asked why I got up in the morning, and to remember where I was heading—fundamental questions that I no longer had time to think about," she says.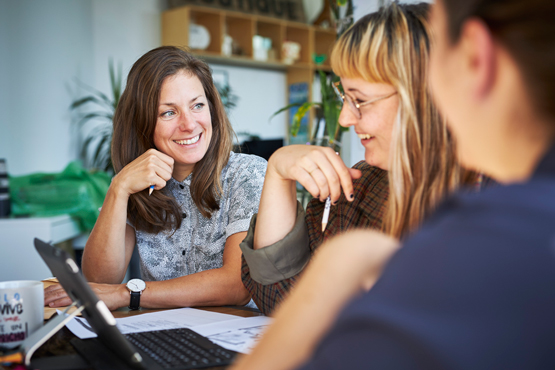 Choosing projects of greater value
This exercise allowed her to better define her personal and professional aspirations, which would in turn help her better identify the projects she wanted to work on. Especially since the lack of structure had sometimes led her to put time, effort and money into contracts that were barely profitable or not profitable at all.
"Sometimes we work for six months on projects that only last three days. It makes more sense to choose enjoyable projects, that spark excitement and bring greater value, especially in terms of our commitment to sustainability," says Portier.
She now tends to choose projects that really showcase the company's skills. While the business enjoys continued success in many fields, their choices are guided by a single rationale. "We select projects that enrich our expertise and ultimately make us more effective," notes Portier.
Besides better prioritizing projects, Portier now also has an annual strategic planning process that allows her to better define and manage her business goals. "A one-year outlook suited me best. But I also have an action plan for each week and month of the year," she explained.
The art of delegating
Knowing that she had to wear several hats at once, the designer/entrepreneur/manager/jack-of-all-trades also wanted to move away from her operational role to devote more time to developing the company, which has four employees.
"Managing all the projects had me at maximum capacity," admits Portier. She says she has learned the importance of delegating tasks by clarifying her employees' roles and responsibilities.
She is also better able to communicate with her team. "Before, I didn't dare share too much about certain aspects of the company, like the financials. But now I see how important that is."
Portier says she is now ready to start a new growth cycle. She recently signed a partnership agreement with a design firm in the Ottawa area that specializes in museum exhibition design. She also hopes to broaden the business's geographical reach by participating in projects across Canada and—who knows—maybe even around the world.