Patrick Hagarty
Team Lead, Solutions Development, High Impact Firms
As Team Lead, Solutions Development, High Impact Firms, Patrick worked on implementing the Growth Driver Program, and has been working closely with Advisory Services over the past several months, including as Project Leader for the development of the Business Performance Builder Program.
Before joining BDC in 2016, Patrick worked in consulting firms for more than 17 years. As Senior Manager of Strategy and Corporate Finance at Demers Beaulne, he led strategic business transformation and financial restructuring projects for service and manufacturing clients. Patrick has also held Senior Director and Senior Advisor positions at KPMG and Deloitte, and was an Associate Professor at Université du Québec en Outaouais, where he taught international marketing and foreign market entry strategy. He holds a Master's ddegree in International Relations from Laval University in addition to a Bachelor's ddegree in Business Administration.
Recent posts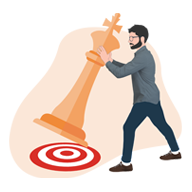 May 28, 2020 | Business strategy and planning
Agility will be even more important in the new economic landscape
Plans that you have already made likely won't apply for the long run anymore. Planning cycles will require speed because the future is still blurry.
Read post