Martin Wiedenhoff
Director, Revenue Growth and Expansion
Martin Wiedenhoff is Director, Revenue Growth and Expansion at the Business Development Bank of Canada (BDC) where his team of Senior Business Advisors help entrepreneurs implement their sales and marketing strategies in Canada and globally. He is a seasoned professional with over 20 years of technology and marketing experience. Martin has lived in nine cities and five countries, speaks five languages and has worked for companies such as IKEA, Insight, CGI, Telus and Videotron. From social media to e-commerce and anything in between, he shares knowledge and views concerning upcoming trends affecting Canadian businesses and helps clients make smart revenue growth investments.
Recent posts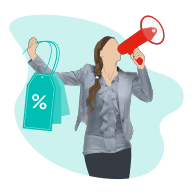 July 18, 2021 | Sales and marketing
Apple and Google are changing the rules of digital advertising: Is your business ready?
Coming privacy changes could upend how businesses conduct online marketing and advertising. Learn how to prepare.
Read post