Marc-Alexandre Diotte-Layne
Director Client Onboarding Lab
Marc-Alexandre has been leading the Client Onboarding Lab since its inception in 2019. As part of BDC's Digital Transformation, the lab's mandate is to review and digitize key aspects of the client onboarding journey.
He joined BDC in 2006 and has held various roles involving client interactions and loan underwriting. In 2010, he joined the Integrated Risk Management (IRM) team where he was involved in portfolio monitoring, model development and implementation. More recently, he led the development and implementation of the smart algorithm that generates automated loans for clients, allowing for a loan approval from a self-service or mobile application in minutes.
Marc-Alexandre holds a Bachelor in Business Administration from HEC Montreal and is a Chartered Financial Analyst (CFA).
Recent posts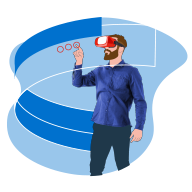 February 19, 2020 | Technology
Digital transformation is essential for your business to stay relevant
Digital transformation won't always be easy, but needs to happen, one step at the time. Find out how to start this process and grow your business.
Read post