Julie St-Pierre
Vice President, Talent, Diversity, Equity and Inclusion
Julie St-Pierre was appointed Vice President of Talent, Diversity, Equity and Inclusion at BDC in March 2022.
In this role, Julie leads a team responsible for developing engagement strategies and programs to create an equitable, inclusive culture at BDC. She provides leadership and direction for all aspects of BDC's talent acquisition, employee experience, learning and development, and diversity, equity and inclusion mandates.
Julie joined BDC in 2012 and draws on more than 25 years of experience in the human resource sector in diverse industries: from hi-tech and transportation, to financial services. She also brings defined expertise in strategic planning, business partnering, organizational transformations and talent management.
Julie is bilingual and holds a bachelor's degree from the Université de Montréal in Industrial Relations and a specialized post-graduate diploma (DESS) in Management from HEC Montréal.
Recent posts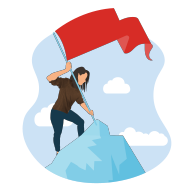 June 29, 2022 | Leadership
Flex+: Values of trust and empowerment
The value of remote work has been proven and We are moving to a permanent hybrid way of working. Learn more.
Read post