Éric Frenière
Senior Business Advisor, BDC Advisory Services
Éric Frenière has more than 30 years of experience in improving business performance and managing organizational transformations. Throughout those years—25 in consulting and five in business—he has supported, trained and managed numerous multidisciplinary teams in various sectors of activity.
His industrial engineering background, his Master of Business Administration and his Project Management Professional (PMP) certification, combined with his diverse experience, make him a recognized agent of change capable of adapting to the circumstances of each business and mobilizing resources towards impactful results. He has solid experience in project management, value-added management and business process and organizational system optimization with both manufacturing and service companies.
Recent posts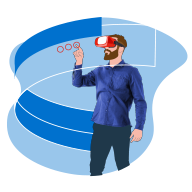 March 16, 2021 | Technology
3 pillars of a successful digital transformation
Find out why digital transformation must be based on an optimization of key processes, cultural change and information integration.
Read post