Craig Ryan
Director, Social Entrepreneurship, Purpose Entrepreneurship
Craig Ryan is Director, Purpose Entrepreneurship at BDC. He has more than twenty years of experience providing strategy and policy advice to decision-makers in business, government and civil society. He never planned to be a banker but decided to give it a go upon learning that BDC was exclusively dedicated to people creating companies; he now leads its team to help grow Canada's national movement of certified Beneficial corporations (B Corps).
Craig has a masters in public administration from Harvard Kennedy School and sits on the boards of directors of Rise (www.risehelps.ca), a charity that provides loans and advice for people with mental health problems who are launching business projects, and NOVAlex Clinic, the charitable wing of the only B Corp law firm in Quebec.
Recent posts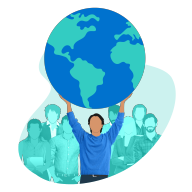 August 07, 2020 | Social Entrepreneurship
The Rise of Local: 'Hopeful Monsters' Win!
A local supply chain, a local team and an efficient website could be a winning combination in a world transformed by COVID-19.
Read post