Alexandre Laporte
Director, Major Accounts - Technology Industry
Alexandre Laporte, CPA, CMA, joined the BDC Technology Industry team specializing in supporting and financing technology companies in 2017. He now specializes in assisting rapidly growing technology companies. Entrepreneurial by nature, Alexandre had previously founded and managed his own SaaS business in the United States. He has also worked as a finance director and financial analyst in small and medium-sized companies. He loves to put his experience to good use in meeting the needs of his clients to help them achieve their business objectives.
Recent posts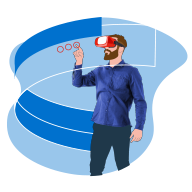 November 18, 2021 | Technology
This way to SaaS: How to increase the value of a tech company
A company can be worth significantly more with monthly recurring revenues. Learn how to transform your business into a SaaS.
Read post