Entrepreneur makes first business acquisition thanks to mezzanine financing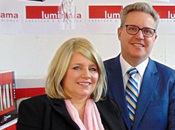 Lumirama specializes in the design and manufacture of light fixtures for the residential sector. Founded in 1993, it serves Canada's major hardware, construction material and renovation retailers. The SME, now owned by Pierre Labrecque, employs 12 people at its headquarters in Laval, Quebec and has three employees dedicated to quality control in its factories in China where its products are manufactured. Driven by the desire to transform the spaces into pleasant living areas, Lumirama offers several new collections each year to provide consumers with innovative designs.
For a few years, Labrecque dreamed of having his own business. Rather than create his own, he preferred to acquire one that was well established so as to mitigate his business risk. In 2016, he acquired Lumirama, which was in good financial health and offered interesting growth prospects. To make this acquisition, he wanted financing that offered flexible repayment to maintain enough cash flow so he could manage operations and carry out his development projects.
Financing structured to protect vital cash
As a solution, BDC's Growth & Transition Capital team offered the company mezzanine financing that provided more flexible repayment terms than traditional financing. The repayment of this type of loan is structured according to cash inflows in order to protect the business's working capital. Another advantage is that it requires less security from the borrower. To realize this acquisition project, Pierre Labrecque also received financing from National Bank. This partnership between the two institutions helped meet the owner's needs.
A substantial increase in sales
Thanks to the financing obtained from BDC and the second lender, Labrecque was able to acquire Lumirama and benefit from the flexibility needed to carry out his projects. In the year following the transaction, he made sure to solidify relationships with suppliers, customers and employees in order to maintain the gains. During the second year, he hired new employees in the sales, marketing and design departments. He also invested in the redesign of the website and developed a new brand image. The results speak for themselves as sales increased by 10% in 2017.
"I would never have been able to acquire the business without BDC's contribution. In addition to obtaining the financial flexibility I needed, I found a real business partner. I also appreciated the openness of BDC's Growth & Transition Capital team, which has enabled me to complement the financing I needed from a traditional lender. This boost has allowed me to implement my game plan without having to worry," he says.