Solar-powered

beer shows how green energy can pay off for local businesses

Foghorn Brewery takes a

step-by-step

approach towards sustainability

6-minute read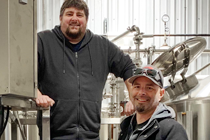 Inside a grey industrial park in Quispamsis, New Brunswick, machines whir as they shoot streams of beer into aluminum cans and snap lids over the foaming white tops.
It could be any microbrewery in Canada—except for the tall rack of solar panels outside.
"We have a really strong commitment to our community, and one of those commitments is environmental stewardship," says Steve Russell, co-owner, with Andrew "Esty" Estabrooks, of Foghorn Brewing Company.
After its founding in 2016, Foghorn quickly outgrew its first location. As they were expanding to a second brewery in 2019, Russell and Estabrooks asked themselves an important question: How can we do our part for the environment?
Working with local New Brunswick businesses, the partners took advantage of their expansion project to include a host of environmentally friendly upgrades to their building, which included investing in a set of solar panels.
"It's a cost-benefit analysis," Russell says. "But in this case, the benefits don't just mean money to us."
A sustainable partnership
Foghorn Brewery's commitment to the environment is not an outlier among Canadian business owners. A 2021 study by BDC reveals that 84% of entrepreneurs believe that they are responsible for protecting the environment. Personal conviction was the principal factor driving the actions of the majority of those business owners (63%).
After growing up in a suburb of Saint John, Russell left the province to study in British Columbia and Ontario. After earning three degrees—none of which had anything to do with the business of running a beer brewery—he returned to New Brunswick to work as a healthcare research associate.
Feeling underemployed and restless, he began dreaming of starting his own microbrewery. He made a business plan, but without any experience in brewing, he didn't see his plan come to fruition until he connected with Estabrooks. As an already experienced brewmaster in the Atlantic craft beer industry, Estabrooks took charge of the technical side of running a brewery while Russell oversaw its business side.
The two founders see environmental stewardship as part of their commitment to the local community. Like Russell, Estabrook is also a New Brunswick local, from the town of Woodstock.
Concrete steps towards a greener future
From the beginning, the partners took care to be as green as possible. All their used cardboard is carefully recycled. The leftover grain from the beer brewing process goes to local farmers to feed cattle, pigs and chickens.
The two founders are proud of what they have achieved, but Russell is quick to point out that Foghorn has a long way to go before it could be a net-zero facility.
"These are just the small things that everyone probably can do, that they don't necessarily do," says Russell.
Building purchase to facilitate a greener business
By 2019, when Foghorn was ready to expand to a bigger brewing facility with a BDC loan, Russell and Estabrooks wanted to do more.
As renters of their first brewery, they had been limited in what changes they could make. Now, as owners of their own space, they retrofitted the lighting from fluorescent to LED, installed three heat pumps to regulate the temperature and added a heat exchanger to improve the efficiency of their cold liquor tank, which minimizes the energy it takes to operate. They also put in their own septic system to handle wastewater from the beer brewing process.
The biggest investment they made was in solar power. Foghorn worked with the Smart Energy Company to install a set of ground-mounted solar arrays. The process took approximately three weeks.
Specially designed for the ferocious New Brunswick gales, the array generates energy in weather that could rip apart other solar installations. Unlike other ground-mounted solar designs that use complex sensors and motors to move the panels, the array has no moving parts. The panels produce energy from both direct sunlight and the reflected light bouncing off the ground. Its high-strength, thick-gauge steel construction also protects it from the corrosive salt air coming off the Atlantic.
Set up against one of their building walls, the solar array quickly became part of the industrial landscape. Russell says that on most days he barely notices it.
"It's just a gigantic thing you drive by in the morning," he says with a laugh.
Although these equipment changes didn't come cheap, Foghorn kept the price of its beers steady. BDC's 2021 study on the environment found that 41% of entrepreneurs absorbed the cost of their sustainability efforts.
Looking to the future
Russell is brimming with ideas to make Foghorn even greener.
One dream is to install a CO2 recovery system. Major breweries have multimillion-dollar systems that capture the CO2 produced during the fermentation process, liquefy the gas, and then put it back into the beer to ensure its distinctive bubbles and frothy foam. Microbreweries like Foghorn tend to release the gas from fermentation and buy tanks of carbon dioxide instead, which generate a larger environmental footprint.
But until these systems can be installed in small breweries, Russell and Estabrooks will gladly settle for more renewable power.
Brewing beer is a process that requires milling grain, boiling liquid, cooling it down and then storing it. Even a microbrewery like Foghorn uses a lot of energy. The solar panels will take 18 years to pay for themselves, because the electricity they generate is not enough to cover the brewery's baseline use.
If money was no object, they would put in enough solar panels to more than compensate for all the energy they use.
But, for now, the COVID crisis put a hold on any ambitious renovation plans. The loss of beer sales through licensed channels, such as bars and restaurants—including Foghorn's own taproom—during New Brunswick's lockdown has cut into their margins.
Nevertheless, Russell doesn't regret their investments, even as profits dipped during the pandemic.
"We just wanted to do our part for the environment," he says. "This is something that meshes with our values and something that we particularly care about."