Patrick Latour was appointed Senior Vice President, Growth & Transition Capital in 2015. Based in BDC's head office in Montreal, he is a seasoned, team-focused leader who oversees a group dedicated to helping entrepreneurs across Canada grow and mature their businesses through mezzanine, quasi-equity and private equity financing. In 2020, he also became responsible for BDC's Wholesale Financing team.
Mr. Latour brings more than 20 years' experience in the financial services sector, including deep knowledge in management buy-outs and acquisitions. He joined BDC in 1997 as an Account Manager and has since held several positions of increasing responsibility, including Senior Vice President, Financing & Consulting – Prairies and Western Canada.
Convinced that entrepreneurs respond best to advisors who share their commitment to success, Mr. Latour is a strategic thinker known for building strong teams, inspiring his people to work smarter and harder on behalf of the bank's clients.
Mr. Latour is a Chartered Financial Analyst (CFA) and Chartered Business Valuator (CBV). He holds a BBA in Finance from Bishop's University and completed the Harvard Business School's executive education program on private equity and venture capital.
Recent posts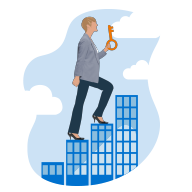 February 26, 2016 | Growth & Transition
Buying a business? 4 critical questions to ask before negotiating the price
When purchasing a business, there are four critical questions that a would-be purchaser needs to ask himself in addition to the price.
Read post