Matthew Kellow is Vice President, Growth & Transition Capital for the Western region, and is based in our Calgary office. With more than 10 years' experience as a senior debt, mezzanine and equity provider, Matthew has structured mezzanine investments, equity infusions and helped manage major transactions in fields such as construction, energy, manufacturing and technology. Matthew enjoys helping entrepreneurs make a success of their business plans. He loves to work with clients and help them manage the practical, important challenges that confront their business.
Recent posts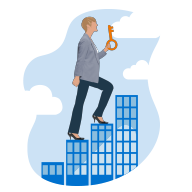 November 07, 2016 | Growth & Transition
Understanding the options for selling your business
Here are the pros and cons of the different types of buyers who might be interested in buying your business.
Read post