Kyle Feucht is a Director, Growth & Transition Capital in our Toronto office. Before joining the Growth & Transition Capital team, Kyle spent over five years in progressively senior debt-lending roles with a particular focus on high-growth technology companies. He has worked across a variety of industries, with a particular emphasis on asset-light and knowledge-based companies. Kyle aims to bring together financing partners to create a well-crafted proposal that provides the necessary flexibility for a business to execute on its growth or acquisition plan.
Recent posts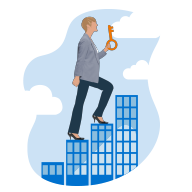 June 17, 2021 | Growth & Transition
I'm not a SaaS company: How do I finance my growth?
Discover how to finance IT service companies, traditional software companies, e-commerce companies, tech-enabled service companies and content producers.
Read post