Charles Blouin is Managing Director, Growth & Transition Capital in our Quebec City office. With more than 10 years' experience in banking services, subordinate debt financing and supporting entrepreneurs, Charles has participated in many transfer transactions, acquisitions and growth in various sectors of activity. Over the years, he has developed specialized expertise in information and communications technology, by offering innovative, customized financing solutions corresponding to industry realities. A seasoned traveller, Charles has climbed Mount Kilimanjaro and demonstrates that same drive when advising entrepreneurs on how to achieve their objectives.
Recent posts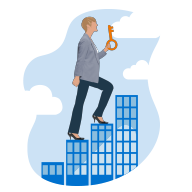 June 17, 2021 | Growth & Transition
I'm not a SaaS company: How do I finance my growth?
Discover how to finance IT service companies, traditional software companies, e-commerce companies, tech-enabled service companies and content producers.
Read post