Dwayne Dulmage
Vice President and Program Lead, Digital Transformation
A graduate of the University of Windsor (BA Arts) and Carleton University (Masters Public Administration), I have spent 24 years in banking with both The Royal Bank of Canada (RBC) and the Business Development Bank of Canada (BDC). Having held various leadership roles during my career in both retail and commercial banking, and most recently as a Program Lead in our automation and mobility programs, I have had the opportunity to gain valuable experience into the many facets of leadership, strategic planning and integration of technology and banking. Now leading our Digital Transformation, I continue to work to support Canadian entrepreneurs by using data to better inform us on their specific needs, requirements and in turn allow us to provide timely and customized solutions.
Recent posts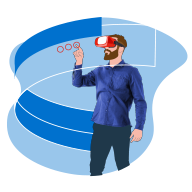 July 29, 2019 | Technology
How does digital banking add value for a busy entrepreneur?
There are so many benefits that digital banking can provide for entrepreneurs. Discover some features that entrepreneurs can use to their advantage.
Read post