Logo library
Logos and icons
The BDC logo is to be used as is and will be provided (in svg format). It is not to be tampered with or altered in any way. The following are the logos to be used when specifed:
Official logo used in headers

Favicon logo

"Leaf" icon used in footers only
Logo practices to avoid
The following examples reflect the logo changes and tampering that must be avoided:

Don't changing colours.

Do not cutting, stretching or compressing the logo.

Don't changing letter size.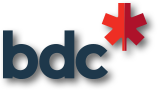 Do not using special effects like drop shadow.
Do not modifying protection space.
Don't modifying proportions.
Don't using a contoured version.
Do not angling the logo.
Official logo protection space
The official logo must be surrounded by protection space at all times as seen below. The protection space is equal to half the height of the "b" in our logo. To ensure optimal visibility and easy recognition, this space must always be free of any visual elements, be it graphic or typographic.