CubicFarm Systems Corp
CubicFarm Systems Corp. is a technology company developing and deploying technology to feed a changing world. Its proprietary technologies enable growers around the world to produce high quality, predictable crop yields. CubicFarms has two distinct technologies that address two distinct markets. The first technology is its CubicFarmsTM system, which contains patented technology for growing leafy greens and other crops indoors, all year round. Using its unique, undulating-path growing system, the Company addresses the main challenges within the indoor farming industry by significantly reducing the need for physical labour and energy, and maximizing yield per cubic foot. CubicFarms leverages its patented technology by operating its own R&D facility in Pitt Meadows, British Columbia, selling the system to growers, licensing its technology and providing vertical farming expertise to its customers.
The second technology is CubicFarms' HydroGreen system for growing nutritious livestock feed. This system utilizes a unique process to sprout grains, such as barley and wheat, in a controlled environment with minimal use of land, labour and water. The HydroGreen system is fully automated and performs all growing functions including seeding, watering, lighting, harvesting, and re-seeding – all with the push of a button – to deliver nutritious livestock feed without the typical investment in fertilizer, chemicals, fuel, field equipment and transportation. The HydroGreen system not only provides superior nutritious feed to benefit the animal, but also enables significant environmental benefits to the farm.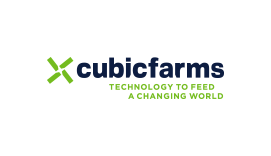 Region: Brtish Columnia
Industry: Clentech